BlackBerry PlayBook now free (with a small catch)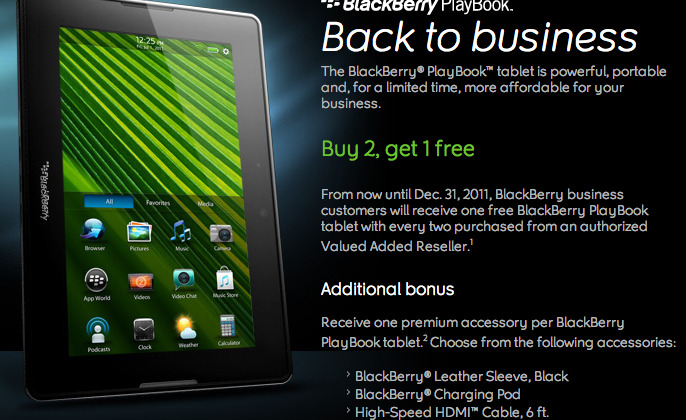 If there's one tablet out there that's simultaneously had the most bad press (not all of it its own fault) and reinforcement from its maker, it's been the BlackBerry PlayBook – and this week we're seeing a whole new door being opened: buy 2, get 1 free. In what RIM is calling its Back to business offer aimed at, what else, small businesses, the BlackBerry PlayBook will from now until the last day of 2011 be part of an offer that effectively makes it 33% off when purchased in sets of three. And that's not all!
In addition when you purchase a BlackBerry PlayBook before the end of the year (straight from one of RIM's preferred retailers, shown below), you'll also get one of several accessories for free! One per PlayBook, that is: a BlackBerry Leather Sleeve (in Black), a BlackBerry Charging Pad, or as High-Speed HDMI cable 6 feet long. This may well get businesses in the mood for some tablet action, believe it or not, as the business world continues to have a wonky eye for the RIM-made mobile OS.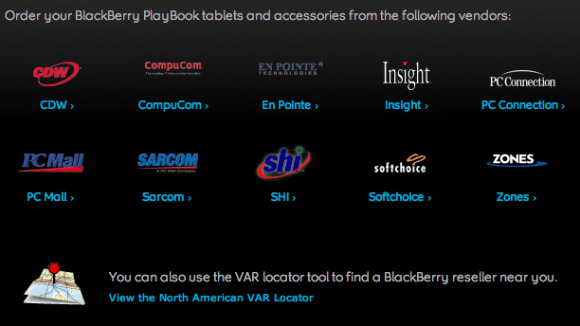 You can take part in this lovely sale over at BlackBerry.com where you'll get a big list of all the places where you can pick up your tablets in sets of threes. Meanwhile you can also check out our recent update on when the PlayBook will get PlayBook OS 2.0 as well as hit up the big PlayBook portal. Then don't forget our PlayBook review from back this spring – an April special! Check out the hands-on video below:
[vms 716b02ec0da35256a998]