BlackBerry Pearl 3G gets official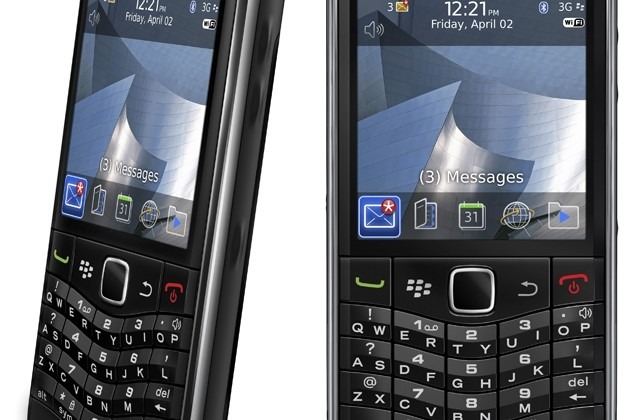 It's no great surprise, what with RIM's surprise being spoilt earlier on today, but the company have officially announced the BlackBerry Pearl 3G.  Measuring a svelte 108 x 50 x 13.3 mm, the Pearl 3G packs quadband GSM and triband UMTS (with both North American and European versions in the pipeline); there's also WiFi b/g/n and Bluetooth.
As with the Bold 9650, the Pearl 9100 gets an optical trackpad and a QWERTY keyboard, though this time around RIM use their SureType 'board that doubles up letters per key and uses predictive text software to fathom out what exactly you're trying to say.  A second version of the phone, the BlackBerry Pearl 9105, has a regular numeric keyboard instead. Both get a 3.2-megapixel autofocus camera with flash and image stabilization on the back, and GPS inside.
Storage is via microSD, with a 2GB card included in the box, and obviously there's AppWorld, BlackBerry Messenger and the usual email support.  Battery life is predicted at up to 5hrs GSM talktime or 18 days GSM standby (or 5.5hrs UMTS talktime/13 days UMTS standby).  No word on pricing, but according to the earlier leak we should expect the BlackBerry Pearl 3G to arrive in Canada on Bell, Telus and Rogers.
Press Release:
RIM Introduces the New BlackBerry Pearl 3G Smartphone
What do you want in a mobile phone? Small? Stylish? Fast? Full-featured? How about all of the above?
Waterloo, ON – Research In Motion (RIM) (NASDAQ: RIMM; TSX: RIM) today announced the new BlackBerry® Pearl™ 3G, the smallest BlackBerry® smartphone yet. Despite its impressively compact and elegant design, this stylish new handset is a powerful 3G BlackBerry smartphone with uncompromising performance and top–of-the-line features, including all the industry-leading BlackBerry® email, messaging and social networking capabilities that so many people love.
"The BlackBerry Pearl 3G is unlike any other smartphone in the world and we expect a broad range of new and existing customers will be drawn to its powerful features and compact design," said Mike Lazaridis, President and Co-CEO, Research In Motion. "Considering the fast growing consumer interest in smartphones and the fact that more than three-quarters of the people in the global mobile phone market are still buying handsets with a traditional alphanumeric keypad, we think the new BlackBerry Pearl 3G addresses a substantial market opportunity. It allows consumers to upgrade their traditional mobile phone to a full-featured, easy-to-use and fashionable 3G BlackBerry smartphone that supports BlackBerry Messenger and many other apps while maintaining a handset design and layout that is familiar and comfortable."
The new BlackBerry Pearl 3G smartphone is a marvel of engineering and design excellence. It's as powerful as it is compact. Measuring less than two inches wide (50 mm) and weighing only 3.3 ounces (93g), it still manages to pack in support for high-speed 3G (UMTS/HSDPA) networks, Wi-Fi® (b/g/n) and GPS along with a powerhouse processor that drives visually stunning images on the sharp, high-resolution display. It also features an optical trackpad for smooth navigation, dedicated volume and media keys for added convenience, a 3.2 MP camera with flash for quality pictures on the go, and support for up to 32 GB of personal content.
Key features of the new BlackBerry Pearl 3G smartphone include:
Elegant candybar design measuring 4.25" x 1.96" x 0.52" (108mm x 50 mm x 13.3 mm) and weighing only 3.3 oz (93 grams)
624 Mhz processor with 256 MB Flash memory
360x400 sharp-resolution display (238 ppi)
Optical trackpad that makes navigation fast and smooth, plus a comfortable keyboard that enables quick and accurate typing
Media player for videos, pictures and music (music plays up to 30 hours), plus dedicated media keys integrated along top of the handset
3.2 MP camera with zoom, autofocus, flash and video recording*
Built-in GPS for location-based applications such as BlackBerry® Maps, as well as photo geotagging
Wi-Fi (802.11 b/g/n) – first BlackBerry smartphone to support 'n'
microSD/SDHD memory card slot that supports up to 32 GB cards
Premium phone features, including voice activated dialing, speakerphone and Bluetooth® (2.1) with support for hands-free headsets, stereo headsets, car kits (including systems that support the emerging Bluetooth Message Access Profile standard) and other Bluetooth accessories
Access to BlackBerry App World™, featuring a broad and growing catalog of mobile applications developed specifically for BlackBerry smartphones
Support for BlackBerry® Media Sync for easily syncing photos as well as iTunes® and Windows Media® Player music with the smartphone**
BlackBerry® OS 5
Support for tri-band UMTS/HSDPA and quad-band EDGE/GPRS/GSM networks
Removable, rechargeable 1150 mAhr battery that provides approximately 5.5 hours of talk time on 3G networks
The new BlackBerry Pearl 3G smartphone will be available in two models and several lustrous colors. The 9100 model features a 20-key condensed QWERTY keyboard and the 9105 model features a 14-key traditional phone keyboard. Both models include SureType® software that can complete words as the user types, making texting fast and accurate. The BlackBerry Pearl 3G smartphone is expected to launch with various carriers beginning in May. Check with individual carriers for details about availability and pricing. For more information visit www.blackberry.com/pearl3G.
Editors: Additional content, including video, spec sheet and images, is available in RIM's online newsroom: www.rim.com/newsroom/media/gallery.
* Video recording requires a microSD card, which may be sold separately.
** Certain music files may not be supported, including files that contain digital rights management technologies. Photo syncing is currently only available for Windows-based PCs.