BlackBerry Classic gets detailed in spec and photos leak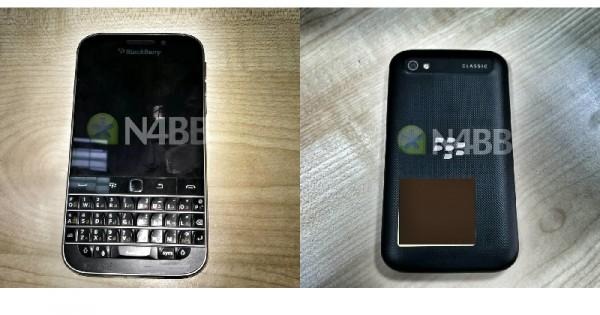 With the BlackBerry Passport, the BlackBerry "Prestige" Porsche Design P'9983, and the new BlackBerry Blend software, most of the company's roadmap for the last quarter of 2014 have come to pass. All except one. The BlackBerry Classic, the Q20 in previous literature, is still something fans are eagerly waiting for before they call this year done. While that day might be coming soon, we will have to settle for unofficial information, like this latest batch of features and images that paint an almost complete picture of the smartphone.
Like any BlackBerry device, this classic is a mish mash of mid and high tier components, mixing things like a 1.5 GHz dual-core processor with an adequate 2 GB of RAM. It's a weird combination but not strange to BB's world. Here is a summary of those hardware features expected to show up in the BlackBerry Classic.
• Display: 3.46-inch 720x720 TFT LCD touchscreen
• Processor: 1.5 GHz dual-core Qualcomm Snapdragon MSM8960 (S4 Plus)
• Memory: 2 GB
• Storage: 16 GB + 128 GB microSD
• Camera: 8 MP F2.2 LED flash main / 2 MP front
• Input: 35-key QWERTY keyboard, Optical Trackpad
• Battery: 2,515 mAh non-removable
Besides the specs, however, the BlackBerry Classic is poised to represent the company's return to its roots, particularly when it come to the keyboard. But while the Passport already exemplifies that, there is another design feature that signifies that BlackBerry renaissance: the button belt. Those five buttons, which includes the trackpad, is a classic, pardon the pun, idiom of BlackBerry devices in the past and it is now returning to BlackBerry's fans. Previous rumors have hinted that the buttons would be capacitive, like in some Android phones, but these leaked photos would seem to say otherwise.
There is no exact date yet when the BlackBerry Classic is expected to drop, though based on the company's timetable, it should happen before the year is over. More important than its arrival, however, will be its impact. The Passport's novelty was probably enough to boost interest in BlackBerry's business again, but the question remains whether these latest generation of devices will be enough to put it back on the mobile charts.
VIA: N4BB