BlackBerry Porsche Design P'9983 gets real, gets unboxed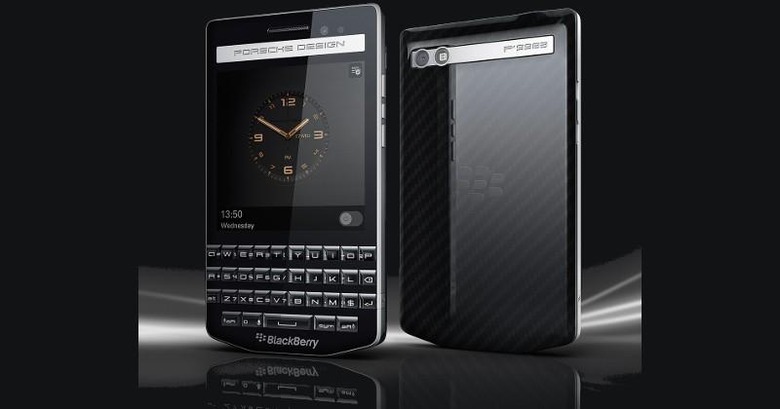 It's finally here, the third lovechild between BlackBerry and the luxurious Porsche Design. With the P'9983, alternatively called "Khan" and "Prestige" in some places, BlackBerry is slowly getting back on the track of its former days, hopefully with the promise of better days ahead.
The BlackBerry Porsche Design P'9983 is not just a mouthful, it also tries to make sure people know you have in your possession a device that was designed for elegance and luxury primarily. Unlike some of BlackBerry's more recent devices, the P'9983 is all about sharp lines and angles, unequivocally saying "serious business". The forged stainless steel edges, glass-weaved back cover, and glass-like keys that give off a visible 3D effect, all contribute to an appearance that won't let you mistake it for some cheap plastic. And if that weren't enough, all P'9983 owners will get an exclusive PIN that distinguishes you from mere mortals as well as other Porsche Design owners.
That's not to say that the P'9983 isn't an accomplished smartphone. In typical BlackBerry fashion, you get a mixed basket of hardware specs. The processor may just be a 1.5 Ghz quad-core Qualcomm Snapdragon MSM8960 (S4 Plus), but it is paired with an ample 2 GB of RAM and an even more spacious 64 GB of internal storage. The 3.1-inch display might be a bit strange with its 1;1 ratio of 720x720 pixels, but that would still be in line with BlackBerry's usual design. The 2100 mAh battery is advertised to last 12 days on standby, but no professional who owns a BlackBerry ever has an idle device, so BlackBerry is also advertising 14 hours of talk time as well.
On the software side, this device also has some interesting tidbits. While some owners might be too elite to care about the fact that it runs BlackBerry OS 10, they might be more interested to learn that it means they will be able to install some Android apps, particularly those from Amazon's Appstore catalog. BlackBerry doesn't just have a Hub for keeping all forms of communication, whether they be SMS, email, or calls, it even has a Priority Hub that learns from users' habits and surfaces what it has learned are the most important items for you. And last but absolutely not the least, BlackBerry Assistant is making its public debut. Pegged as BlackBerry's rival to Siri, Google Now, and Cortana, the Assistant lets you control and query your device, not just using your voice, but also with typed commands. And it is supposedly smart enough to respond to you in the same way you talked, or typed, to it, even detecting when you're in a car and shouldn't be taking your eyes off the road.
Here's a 4-minute unboxing video showing all the Porsche Design branded things you'll be getting if you buy one.
For all those features, the BlackBerry Porsche Design P'9983 will cost a pretty penny. What that price tag will be, the company still isn't telling. The arrival of this smartphone does have one important implication, however. In its leaked slides, the "Prestige" is noted to arrive in the same quarter as the BlackBerry Passport, hinting that the company's phablet novelty might just be around the corner.