BlackBerry Blend gives access to BB data from any device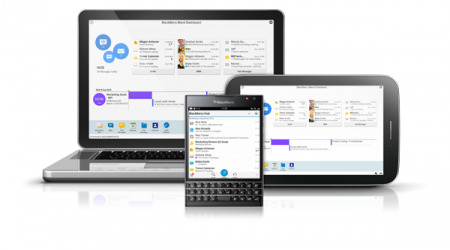 Realizing that its former enterprise territory is no longer just its own,
has launched Blend, a tool that plays nice with other platforms. With BlackBerry Blend, you will be able to access BBM and important files stored on your BlackBerry smartphone, whether from a PC, a Mac, an iOS or an Android device.
The prevalence of mobile devices and even laptop computers means that even BlackBerry's most loyal users do have an iPad or an Android phone in their arsenal. Rather than shutting those out and potentially losing customers, BlackBerry has opted to actually invite them to the party in a semi-limited fashion with BB Blend.
BlackBerry says that you'll no longer have to worry about wires or deal with cloud services with BlackBerry Blend, but that is somewhat half true. In this case, Blend becomes half a cloud, one that revolves around your BB smartphone and your BlackBerry ID. With BlackBerry Blend installed on other devices, including computers and laptops, you will be able to get access to BBM messages and email as well as data stored on your phone. But even without the smartphone at hand, you will be able to access data stored on any other device that is connected to the same BlackBerry ID,
Admittedly, Blend isn't just some BlackBerry-branded way to share data across devices, something that other apps and platforms are well capable of doing. Blend unsurprisingly shines in an enterprise setting. If a company has BlackBerry Enterprise Server set up and the BB phone is connected to that, users will be able access the company network from any device, any time, anywhere. Of course, the company's IT department can still setup access restrictions as normal. And all of these happens through BlackBerry's secure pipes.
That said, while BlackBerry Blend is actually available on almost all major devices and operating systems, you will, of course, still need a BlackBerry smartphone to set it up. Right now, only the newly announced
, as well as the luxury
, are compatible with the software. BlackBerry Blend comes free with the Passport, but additional enterprise features will cost a subscription fee that will be announced later on.
SOURCE: BlackBerry (
), (
)