BlackBerry CEO Accuses Rivals Of FUD-Spreading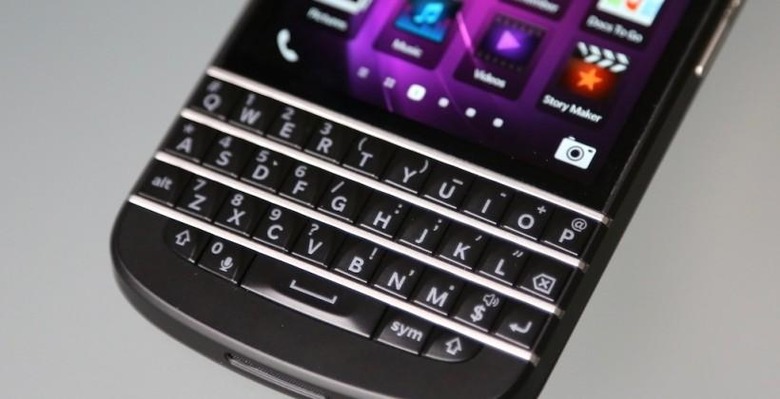 New BlackBerry CEO John Chen has promised a new age of transparence as he tries to turn the ailing Canadian company around, blaming rival phone manufacturers for trying to spread fear, uncertainty, and doubt around how it is holding up. "Don't be fooled by the competition's rhetoric" Chen wrote in a piece for CNBC, echoing parts of the company's manifesto as set out in its recent dire financial results, when it announced it would be pushing over some of the responsibility for handset design to Foxconn.
That deal, Chen insists, is about keeping BlackBerry more responsive to market demands. The result will be faster product cycles, he suggests, leaving BlackBerry itself to focus on software, its place in the enterprise, and BBM.
According to sources speaking to BGR, meanwhile, the first Foxconn-designed BlackBerry will lack a physical keyboard – perhaps a surprise to its core audience of messaging fans – though it is believed to run BlackBerry 10. That's presumably in an attempt to push the OS into the low-end market, something the company has struggled to do.
In fact, handset sales most recently have overwhelmingly skewed toward devices running the older BlackBerry 7, rather than the newer platform the company has set its future on.
"I believe BlackBerry has a clear lane ahead of us to create new trails as a nimbler, more agile competitor" John Chen, CEO, BlackBerry
As for what BlackBerry itself will be concentrating on, Chen says that despite the company's competition suggesting that it is losing its place in the enterprise, that's not in fact the case. "We're still the leader" the new chief exec argues, pointing out that the global enterprise customer base totals more than 80,000 while all seven of the G7 governments are BlackBerry users.
The US Department of Defense, he highlights, has only granted "Authority to Operate" to the BlackBerry platform. However, both Samsung and Apple are chasing that level of approval.
Unfortunately, some of the current successes in BlackBerry's story aren't actually making them any money, at least directly. BBM, the now cross-platform messaging service, is flourishing, Chen says, though concedes that it won't be a source of revenue for a few years.
Whether Chen's enthusiasm will be matched by the market remains to be seen. BlackBerry confirmed earlier this month that it would be canceling some of its more affordable device plans as it tries to trim its outgoings.