BlackBerry Torch 9850/9860 And Torch 9810 Official [Video]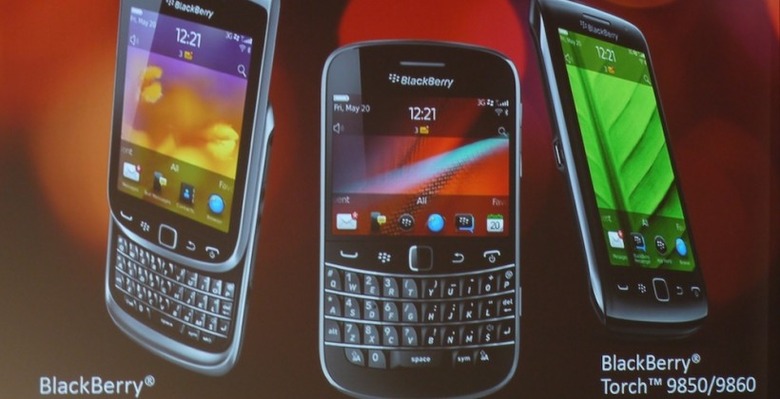 RIM has announced its new BlackBerry range, with five handsets (three models, five variants) including May's BlackBerry Bold 9900/9930, and the new BlackBerry Torch 9850/9860 and BlackBerry Torch 9810. Each smartphone runs BlackBerry 7, the company's newest OS version, and has a new HTML5 compliant browser with what RIM claims is best-in-class performance. Full details on all the new hardware after the cut
The BlackBerry Bold 9900/9930 pairs a full QWERTY keyboard with a 287dpi capacitive touchscreen in a chassis RIM says is, at 10.5mm thick, the thinnest so far. Like all five of the handsets announced this morning, it has a 1.2GHz processor paired with 768MB of RAM; it also gets HSPA+ 14.4Mbps wireless, a 5-megapixel 720p HD camera, WiFi and GPS.
The BlackBerry Torch 9850/9860, meanwhile, is an all-touch device hoping to put bad Storm memories behind itself. It measures 11.5mm thick and has a 3.69-inch display running at 253dpi, a 1.2GHz processor, HSPA+, Liquid Graphics and 720p HD recording from the 5-megapixel camera.
Finally , the BlackBerry Torch 9810 is a touch/QWERTY hybrid slider, in effect the Torch 2, with a physical keyboard paired with a 253dpi touchscreen. It has the same Liquid Graphics, 1.2GHz CPU, HSPA+ and 768MB of RAM.
RIM says it has over 225 carriers testing the new phones, though specific release dates are yet to be confirmed.
[vms 68c9c291ae2f8b74012e]