BlackBerry 9720 caught in wild as BB7 gasps its last

Thorsten Heins promised one more BlackBerry 7 device this year and it looks like this is it, the freshly-leaked BlackBerry 9720. Intended to retain BlackBerry's footprint in the budget market, not to mention placating enterprise users not yet ready to upgrade to BlackBerry 10 infrastructure, the handset spotted by ThaiBBClub is a Curve-scale QWERTY phone, smaller than the BlackBerry Q10.
According to the Thai site, the BlackBerry 9720 has 3G and a removable battery – the latter also differentiating it from the Q5 – though there's reportedly only 105.8MB of internal storage. Instead, you get a microSD card slot under the battery cover.
Resolution of the camera is unclear, though there's an LED flash next to it, and seemingly a front-facing camera as well. On the side, there's a dedicated shortcut key to load BlackBerry Messenger, while the thumbboard itself is reminiscent of the Q5's, with the buttons more spaced out than those of the Q10.
Although BlackBerry is keen to shift as many users as possible to BlackBerry 10, its new QNX-based platform, the company can't quite cut the ties with BlackBerry 7 yet. For a start there's the absence of a truly affordable BB10 phone for the budget end of the market, particularly the prepaid arena in which BlackBerry has done so well with teenage buyers in recent years.
However, at the other end of the scale are enterprise customers who may have sizable deployments of BlackBerry 7 phones, along with the BES infrastructure to manage them. Switching to BlackBerry 10 would require a time-consuming shift server-side, something that – while the Canadian company says BB10 is being trialled by a number of Fortune 500 firms – involves a considerable commitment.
Release information and pricing for the new phone has not been confirmed, though there's already a terse mention of the 9720 in this BlackBerry XML device list.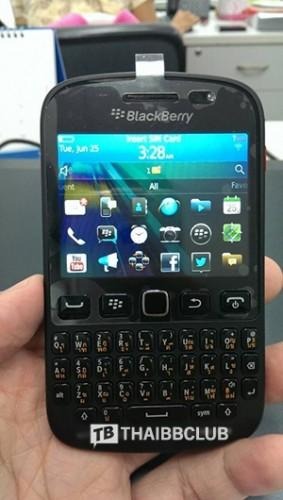 VIA CrackBerry