Black Shark 3 PRO 5G gaming phone released: Triggers and everything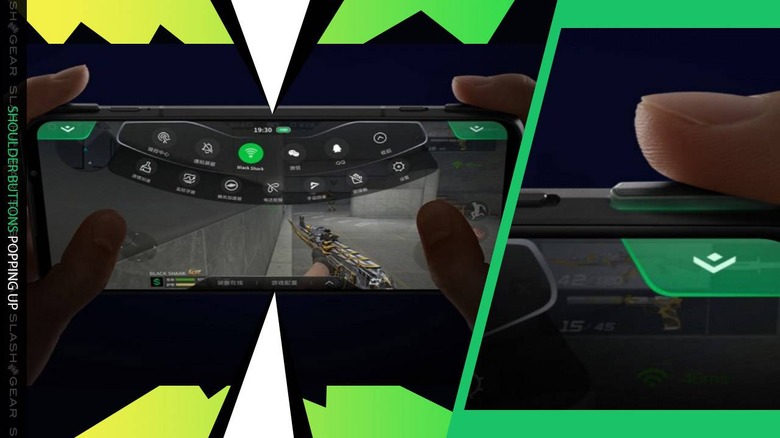 Today the Black Shark 3 PRO was revealed in full, complete with physical button shoulder triggers. This device is made for mobile (Android-based) gaming, and comes prepared for all the game streaming action you'll very possibly be enjoying in 2020. Instead of connecting a 3rd-party hardware controller, this device itself is the controller – sort of like you've got a Nintendo Switch, without all the Nintendo.
The Black Shark 3 has a 6.67-inch FHD+ OLED display, while the Black Shark 3 PRO has a 7.1-inch 3120 x 1440 OLED display. Both devices have 90Hz image refresh rate, 270Hz touch sampling rate, and an apparent exceedingly low 24-millisecond latency. That'll be difficult to test – but we'll take a shot!
SEE TOO: Our Black Shark 2 Review – a gaming master
UPDATE: This display panel also has four pressure-sensitive "zones" for distinctive physical input for games. This will be an interesting set of oddities to test, to be sure.
This set of graphics and touch capabilities will be powered by the Qualcomm Snapdragon 865 inside. There'll be 5G connectivity potential, a "4th-generation liquid cooling" system, and two different battery sizes. The non-pro model has a 4720mAh battery inside, while the PRO has a 5000mAh battery, where both have 18W charging via a proprietary magnetic charging port, or 65W charging speed via USB-C.
The Black Shark 3 PRO has the physical shoulder buttons, where the non-PRO version does not. These are called "Master Buttons" and they're some of the first physical shoulder buttons we've seen on an Android device... since the Sony XPERIA Play (PlayStation Phone), of course.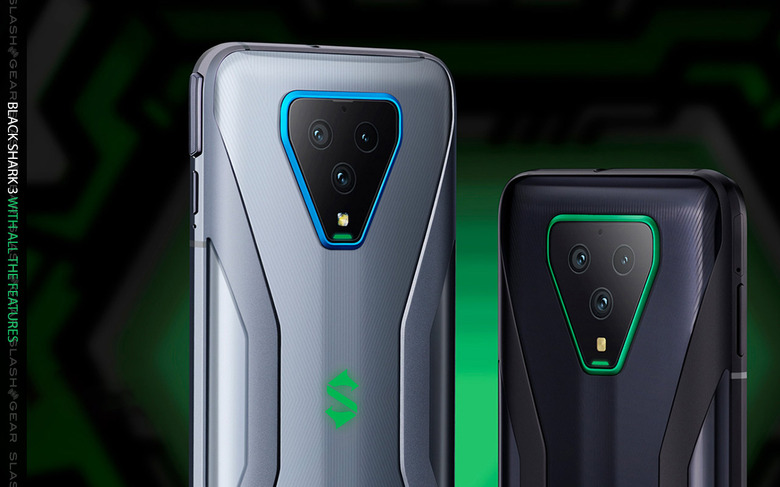 The back of the Black Shark 3 has a trio of cameras, 64MP+13MP+5MP (main, ultra-wide, depth), and a 20MP camera up front. There's a pair of front-facing speakers on this beast of a phone for stereo sound, too.
A standard 3.5mm headphone jack on the Black Shark 3 allows the user to plug in their wired headphones like a civilized human being. There's USB-C for charging and data transfer, UFS 3.0 storage tech, and LPDDR5 RAM in full effect.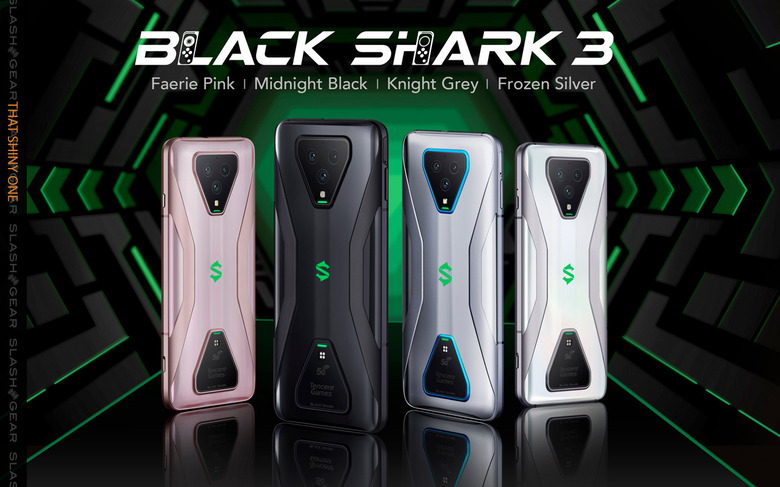 The Black Shark 3 will be released on March 3, 2020, while the Black Shark 3 PRO will be released on March 10, 2020. One or both will be released globally "in the near future." Pricing in China for an 8GB RAM/128GB internal storage model (non-PRO) will start at 3,499 yuan – that roughly translates to around $500 USD. The Black Shark 3 PRO starts at 4,699 yuan (around $675 USD) for a version with 8GB RAM and 256GB internal storage.
The most extravagant Black Shark 3 PRO will come with 12GB RAM and 256GB internal data storage. This version will cost 4,999 yuan, which is right around $715 USD – and final, actual, real USD pricing remains unannounced at this time.