Black Samsung Galaxy S III spotted at T-Mobile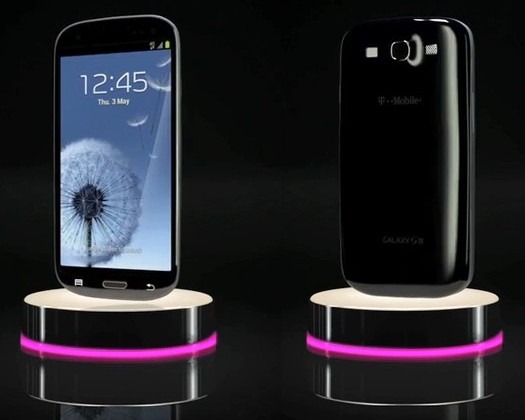 If you saw the black edition of the Samsung Galaxy S III the other day and wondered when you might be able to get your hands on it in the United States, the answer might be "soon." The black version of Samsung's latest flagship smartphone has been spotted on T-Mobile's website for all to enjoy, with what looks to be a glossy finish not unlike the white and blue versions of the phone. Jump onto the company's website and you'll be treated to a 360 degree spin of the black variant of the phone.
The black version may be on T-Mobile's website, but there's no details as to when you can get your hands on the color. The company still only has the blue and white versions of the smartphone available for purchase, so you'll have to sit tight and see if an official announcement is coming soon. When it does land, it should cost the same as the other versions, currently $280 on a two-year contract.
Images of the black Galaxy S III first emerged from photos in Germany several weeks ago. More recently, Samsung threw up official images of a black version of the phone on its Facebook page with no information to back them up, and UK retailer MobileFun announced this week that it would be stocking the black handset, estimating a shipping time of four to six weeks. Samsung still hasn't made an official announcement regarding this particular color choice, however.
The black Galaxy S III will otherwise be identical to currently shipping models, featuring a 4.8-inch Super AMOLED 720p display, a quad-core Exynos processor clocked at 1.4Ghz (dual-core Snapdragon S4 in the United States), 1GB of RAM (2GB in the US), and an eight megapixel camera with 1080p video recording. The phone ships with Ice Cream Sandwich and TouchWiz 4.0 out of the box, but reports indicate that Samsung may update the smartphone to Jelly Bean on August 29th at its IFA 2012 event.
[via Engadget]