Big surprise, hardly anybody is buying smartwatches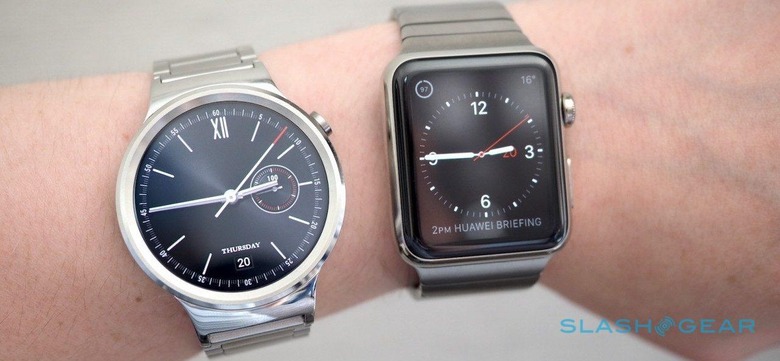 Smartwatches may have been heralded as the Next Big Thing in consumer tech, but a stagnating market has seen the segment shrink dramatically compared to last year. Shipments overall drooped 32-percent in Q2 2016, according to the latest IDC worldwide smartwatch report, torpedoed for the most part by dwindling demand for the Apple Watch.
Indeed, it's both a good and bad showing for Apple's wearable. The Apple Watch is still the most popular option in the smartwatch space, with 47-percent market share, but it was also the only named brand in the report to see shipments fall in the most recent quarter.
In fact with 1.6m shipments in the three month period, versus 3.6m in the same quarter a year ago, that means a 55-percent shrink in demand year-on-year.
Apple's heft in the segment means that drop has a huge impact on sales performance overall. Samsung comes in second place, with 0.6m unit shipments and 16-percent market share, and actually sees a 51-percent increase over the previous year, while Lenovo piggy-backs on Motorola's Android Wear watches for 0.3m unit shipments and 9-percent of the market, growing 75-percent year-on-year.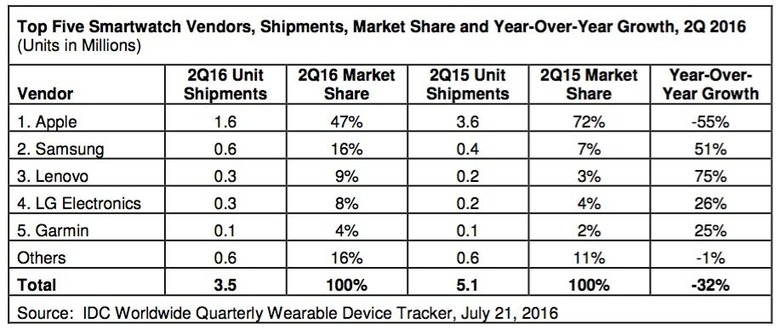 Despite their increases – and those of LG and Garmin, indeed – the overall market dropped from 5.1m shipped a year back, to 3.5m in Q2 this year.
Those who have been monitoring the smartwatch space, mind, may not find any of this too surprising. Apple made the most minor of changes to its wearable for 2016, leaving it effectively the same smartwatch as first launched roughly two years ago.
Educated customers are likely postponing their purchase for the second-generation hardware, or at the very least waiting to see how the upcoming version of watchOS affects performance and user-experience of the original model.
IDC credits Samsung's efforts pushing its Tizen-based wearables through carrier deals, in addition to integrating cellular connectivity for standalone use, as aiding its growth.
For Android Wear, though, it's been a disappointing few months. Google's incoming Android Wear 2.0 upgrade may help there, as may the company's first self-branded smartwatches running the new platform.
NOW READ: Is your smartwatch a PIN-theft threat?
Overall, like the wearables space in general you could argue, smartwatches have struggled to make an impact as manufacturers attempt to figure out what, exactly, users want and expect from their wrist. Until they work out the answer to those questions, it's unlikely to see any turnaround of note.