Google-Made Android Wear Smartwatch Renders Leaked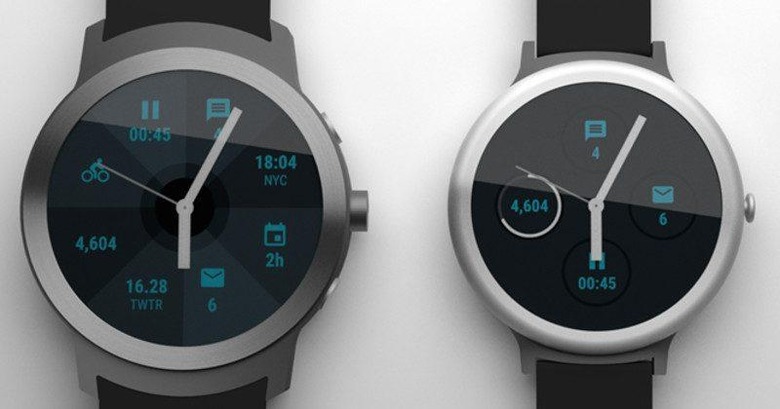 Aside from making its own smartphone, Google is also rumored to be making its own Google Assistant powered Android Wear smartwatches. Admittedly, that might be an easier sell than a self-made Nexus. That said, just like the smartphone rumors, details on these two smartwatches are still quite vague, but now there are a few more tidbits to chew on. Renders based on "reliable" but highly anonymous sources show how the two, codenamed Angelfish and Swordfish, will most likely look like, and how wildly they'll differ not just in design but in functionality as well.
Of the two, "Angelfish" is the bigger and more featured model. In addition to a crown button, which may or may not also be dial, there are two buttons flanking it, which is a bit unconventional for an Android Wear smartwatch. Due to its lug design, it will sadly not be compatible with Google's snap-and-swap MODE watch bands.
In contrast, the "Swordfish" is considerably smaller but is also noted to be a bit less capable. And it's not in the lack of buttons alone. This smartwatch is noted to have no LTE or even GPS hardware, making it totally dependent on the a paired smartphone. The Angelfish, on the other hand, is meant to showcase the best of Android Wear 2.0, which includes standalone connectivity and standalone apps.
As for the software, both will of course run Android Wear, but will be slightly different from the current generation of smartwatches. That will primarily be in part due to Google Assistant, which is a much more advanced version of the voice-activated Google Now. There also seems to be a new type of watch face, one that tells more than just the time and might be a little too packed with information.
Of course, these are still on the level of speculation, and no matter how credible the source is, it is far too early in the game to pin it down as a final design. Given how the smartwatch market in general has been languishing of late, it will be interesting to see if Google has some tricks up its sleeves, almost literally, to rejuvenate this product category.
VIA: Android Police