BFG Deimos X-10 18.4-inch notebook packs SLI dual graphics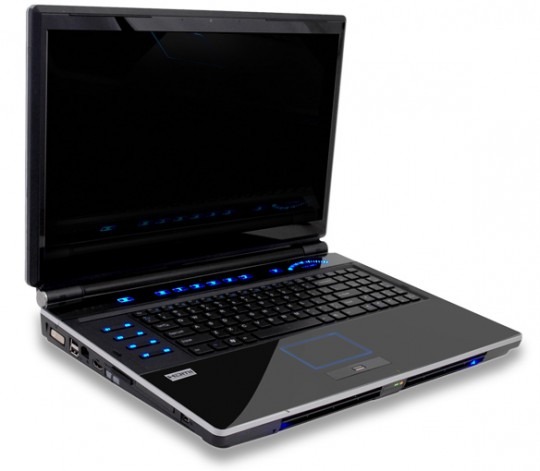 From a skinny whippet of an ultraportable to an altogether chunkier model, BFG's Deimos X-10 SLI Gaming Notebook doesn't particularly lend itself to narrow tote bags but if you want to do some serious gaming while on the move then this is your beast.  The Deimos X-10 packs an 18.4-inch 16:9 1920 x 1080 display and can be built with dual NVIDIA GeForce GTX 280M 1GB graphics card in an SLI setup.
They're paired with a choice of Intel Core 2 Duo or Core 2 Quad processors, up to 8GB of DDR3 memory and three drive bays allowing for up to 1.5TB of HDD storage and optional RAID.  Since there's plenty of space BFG have also slotted in a Blu-ray drive, 5.1 speaker system (including a subwoofer), HDMI and DVI ports.
There's also WiFi b/g, gigabit ethernet, Bluetooth 2.1 and more ports than an Adamo XPS could dream of; OS is Windows 7.  The Deimos X-10 is available to preorder now, starting at $1,859.
Press Release:
BFG Tech Announces Deimos X-10 – 18.4-inch SLI Gaming Notebook that offers Desktop Quality Performance

Deimos is available now for pre-order with 10% off if ordered before October 30

Libertyville, IL – October 12, 2009 – BFG Technologies, manufacturer of the stunning high performance gaming/home theater system – Phobos, is excited to announce the new Deimos X-10 SLI Gaming Notebook. Deimos X-10 delivers super fast frame rates similar to an SLI desktop rig, but offers gamers the convenient portability of a notebook. Deimos X-10 can be configured with dual NVIDIA® GeForce® GTX 280M 1GB (SLI) graphics cards, which pump out ultra-lifelike graphics on the gorgeous 18.4" full 16:9 HD (1920x1080) LCD screen.

The Deimos X-10 notebook allows gamers to take full advantage of NVIDIA® SLI™ technology in a portable form factor. With proprietary software algorithms and dedicated scalability logic in each NVIDIA graphics processing unit (GPU), NVIDIA SLI technology delivers up to twice the performance (with 2 cards) compared to a single graphics solution.

"The Deimos X-10 SLI notebook is perfect for gamers and media enthusiasts who demand desktop performance but prefer the portability of a notebook," said John Malley, senior director of marketing for BFG Technologies. "Deimos X-10 comes fully locked and loaded to deliver the ultimate HD mobile gaming and multimedia experience."

Deimos X-10 is powered by the Intel® Core™ 2 Duo, Quad or Extreme processors, supports up to 8GB of DDR3 Memory, and has three drive bays for up to 1.5 terabytes of storage space (SSD/HDD). In addition to being a gamer's dream, Deimos X-10 is a multimedia powerhouse that features an available Super Multi Blu-ray reader, 5 speakers with a built-in sub-woofer, supports Dolby™ surround, 4 USB2.0 ports and both HDMI and DVI output ports. Deimos X-10 also ships with a free Case Logic® notebook backpack.

Demios X-10 starts at $1,859 is available for pre-order now at www.bfgsystems.com. BFG Technologies offers a free service visit during the warranty period, and is taking 10% off the final invoice of every Deimos X-10 ordered between now and October 30, 2009.