Bethesda won't confirm Skyrim for Nintendo Switch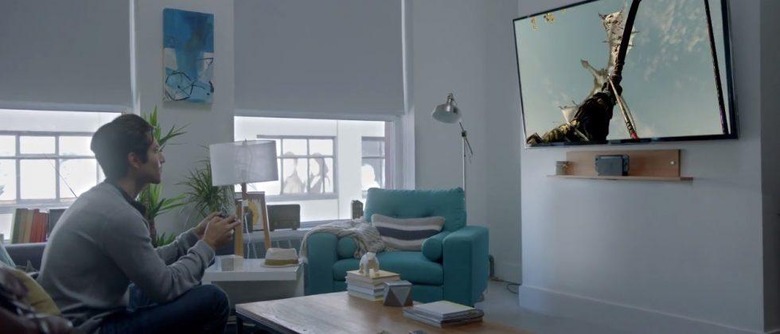 When the Nintendo Switch was announced yesterday, Bethesda's famous RPG Skyrim was right there along with it. Skyrim wasn't hard to miss in the reveal trailer for the Switch, as it featured rather prominently. There's just one small problem with that: It turns out that Bethesda is hesitant to actually confirm Skyrim for Nintendo's latest console.
Speaking to GamesIndustry.biz, a Bethesda spokesperson said while the company was happy to work with Nintendo on the reveal trailer, it isn't ready to confirm any games for the Switch just yet. "While we are not confirming any specific titles at this time, we are pleased to announce our partnership with Nintendo and support of the Switch," the spokesperson said. "We look forward to revealing specific games and details in the future."
That's an interesting turn of events, because the trailer sure seemed to confirm that Skyrim would be one of the major third-party titles launching on the Switch. The timing seemed perfect too, as Skyrim is about to enter the spotlight once more thanks to the release of its Special Edition. Skyrim Special Edition features a rework of the game's graphics and launches for Xbox One, PlayStation 4, and PC on October 28.
It's not uncommon to have third-parties announce their support for a new console while at the same time failing to announce any actual games, but this is still a little strange even considering those usual circumstances. We'll have to wait and see what Bethesda ultimately announces, but Skyrim seems like the best bet if we're looking at existing Bethesda games it can port over to the Switch.
In any case, those details should be coming down the pipeline shortly. Nintendo reiterated yesterday that it's still targeting a March 2017 release, so that gives it six months to do a complete marketing campaign and sell consumers on the device. Given the failure of the Wii U, Nintendo needs to knock this launch out of the park, so when that list of launch titles does eventually arrive, hopefully it'll be packed with a lot of heavy hitters.
SOURCE: Gamesindustry.biz