Best Buy Stores Getting Four Palm Pre On June 6th, RadioShack Two?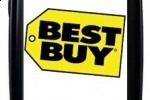 Sprint CEO Dan Hesse was accused by many of attempting to stoke demand when he warned that stock of the Palm Pre on launch day might be limited, but news coming out of Best Buy and RadioShack suggests there could be many disappointed people on June 6th.  According to an insider at Best Buy, the approximately 1,000 stores taking part in the Pre launch will have roughly 4,250 handsets to share between them, averaging out at just four units per location.
Meanwhile, a separate RadioShack tipster has confirmed that 721 of the company's stores will be selling the Pre on June 6th, "limited to high coastal areas like New York, New Jersey, California, Miami, Texas, etc."  While specific stock figures are unknown, he estimated just two Pre devices per RadioShack.
After the cut: Best Buy Palm Pre waiting list opening this weekend?
One of the forum members at My Pre, chronofire, was told by an employee at their local Best Buy that the retailer would be starting a waiting list for those interested in buying the smartphone.  That list, which will apparently begin accepting names this weekend, does not guarantee a Pre on June 6th; instead, once the store finds out exactly how many handsets they've been allocated, they'll contact people on the waiting list to arrange reservations.
If these figures pan out, there could be some serious disappointment on June 6th and, as we suggested before, quite a few would-be buyers left holding their money in time for Apple to potentially announce a new iPhone at the WWDC a few days later.
[via My Pre]