Best Buy lists three new iPad models "coming soon"

Best Buy has added listings for three new iPad models, each tipped as "coming soon" and as having WiFi access. No mention of any 3G support is listed for any of the three SKUs – 1945674, 1945595 and 1945531 – only WiFi, making it perhaps unlikely that these are Verizon's tipped incoming CDMA iPads; instead, it could be early listings for the second-gen iPad 2.
Two of the models are priced at $599.99, while the third is $100 more expensive, at $699.99. Best Buy has no images to accompany the listings, and each has the same "Apple iPad SKU WiFi" description and "Apple iPad" model.
Apple is expected to announce the iPad 2 later this quarter, perhaps as early as late-January or early February 2011. The tablet is expected to have a more squared-off design, together with new speakers and ports as evidenced by leaked iPad 2 cases, along with a higher resolution display and new, dual-core ARM Cortex A9 based processor.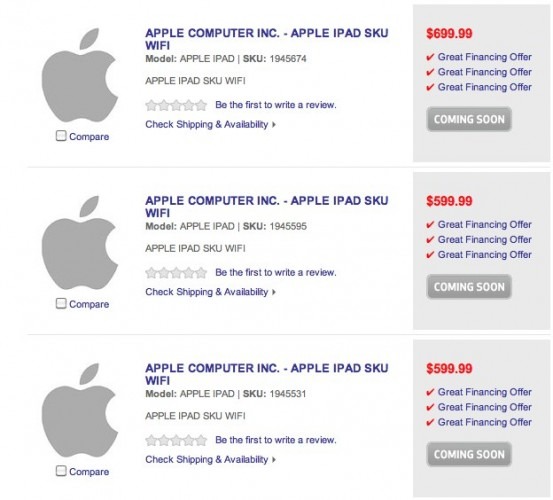 [Thanks Eric!]