Bentley imagines holographic butler as the ultimate luxury in autonomous driving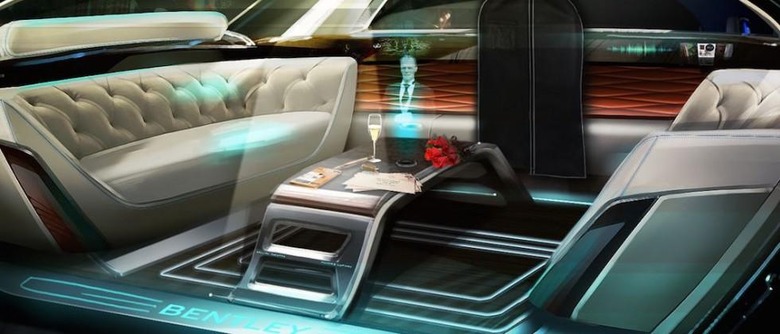 With the age of autonomous and AI-assisted driving quickly approaching, high-end car manufacturers are now considering how their passengers will be entertained and made more comfortable. Mercedes' concept features seats that swing around to face each other, while BMW envisions using the windshield as an augmented reality display. Bentley, on the other hand, seems to be toying with a concept of the ultimate luxury: a holographic butler to take care of passengers' needs.
The British car maker has released the above concept image, depicting one possibility for how an intelligent AI could be implemented to assist drivers and passengers. Among the possibilities for the digital servant are to have it act as a car-based Siri, with capabilities such as looking up locations, offering recommendations, and even making reservations.
When combining this with self-driving tech, it's only natural to imagine telling the butler a destination, followed by the car automatically driving there.
"In the future our cars will of course feature yet-to-be-invented connectivity and technologies – perhaps a virtual butler, for example – that enhance the lives of our luxury millennial customers, and I strongly believe that how these technologies are integrated into the cabin will become ever more important," explained Stefan Sielaff, Bentley's Director of Design.
The image released was based on the idea of adding the holographic assistant to Bentley's EXP10 Speed 6 concept, a possible all-electric car that was first unveiled last year. However, it's highly unlikely we'll see this digital butler anytime soon in production vehicles. But at least it gives us an idea of how one luxury car maker thinks personal AI and self-driving could be combined.
SOURCE The Mirror