Bentley Continental GT3 makes 600HP racer out of luxury barge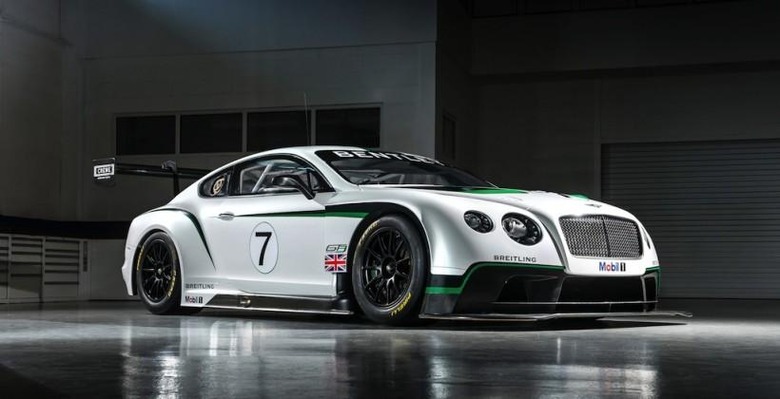 Bentley has taken the wraps off of its new Continental GT3 racer, aiming to prove that it's not only Jaguar that can bring something beefy and British to the Goodwood Festival of Speed this weekend. Where Jaguar's achingly appealing Project 7 is a design study, however – albeit one which will do 0-60mph in 4.1 seconds – the Bentley Continental GT3 is headed to the racetrack, aiming to bring its monstrous 600 HP power to FIA Blancpain Series races in 2014.
Although the external design shows the obvious relation to Bentley's Continental GT road car, there have been some major changes to fettle it for the track. In total, Bentley has ditched more than 1,000 kg in weight, including the wood and leather interior trim, the electrical systems usually found in the production car, and most of the controls on the dashboard. That brings it under 1,300 kg, even with the addition of some carbon-fiber on the outside: a rear wing, a splitter at the front, and tweaks to the bonnet, bumpers, fenders, and sills to cut drag and increase passive cooling.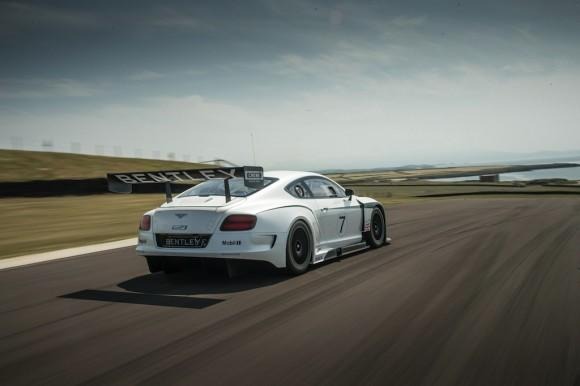 The biggest change, though, is probably to the engine. That's a 4.0-liter V8, in the racer pushed back to the back of the engine bay and paired with a carbon-fiber propshaft to drive the rear wheels. A new gearbox – an Xtrac six-speed sequential, with a limited slip diff and pneumatic shifting – is controlled via steering wheel paddles.
Bentley Continental GT3 teaser:
Gone is the road car's air suspension, replaced with double-wishbones front and rear, as well as four-way adjustable dampers. Ventilated iron disc brakes work with six-piston calipers at the front and four-piston at the back; the driver can independently adjust the braking balance themselves.
Bentley Continental GT3 racetrack testing:
Inside, it's stripped out but still surprisingly luxurious for a racer, with the Continental GT3 getting the usual hand-trimmed and stitched wheel, door pulls, and seat. They share cabin space with a steel roll cage, six-point safety harness, integrated fire extinguisher system, and pneumatic jack system.
Bentley isn't saying what sort of performance it expects from the 600 HP car, with the company planning to tune the car over the coming months before it takes place in development trials and FIA homologation.