Bell grab Motorola ATRIX 4G too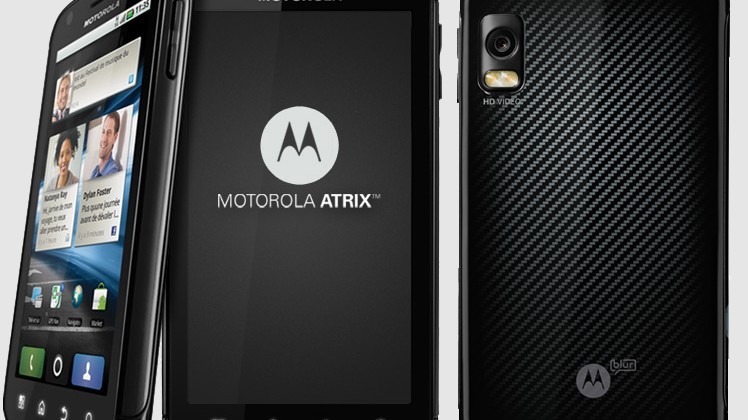 AT&T were at pains to highlight the fact that the Motorola ATRIX 4G was a network exclusive when they launched the Tegra 2 based superphone yesterday, but it seems that limitation only applies to the US. Canadian carrier Bell has just announced that the ATRIX 4G will be winging its way to their HSPA+ network in the coming months too.
The handset itself will be identical to the AT&T version, which means a dual-core 1GHz processor, qHD resolution display, Android 2.2 Froyo, a biometric fingerprint scanner and both front and rear cameras. There's also Citrix Receiver support, together with two optional docks: the Motorola HD Multimedia Dock, with three USB ports and an HDMI port, and the Motorola Laptop Dock, with an 11.6-inch screen, full keyboard, stereo speakers and 36Wh three-cell battery that delivers up to seven hours of battery life, all in just 2.4 pounds.
No word on pricing but we're expecting this behemoth to be carry a flagship tag when it arrives in Canada. More information on the ATRIX 4G here.
Press Release:
Motorola Mobility Canada and Bell Announce ATRIX™ Coming Soon to Canada

The world's most powerful smartphone transforms into a laptop, desktop or home entertainment center through Motorola's revolutionary webtop application

Jan. 05, 2011

LAS VEGAS (CES ) and TORONTO – Jan. 5, 2011 – Motorola Mobility Canada and Bell today unveiled Motorola ATRIX, the only smartphone with the Motorola webtop application that puts a true desktop browser in the user's pocket. The ATRIX will be available to Canadians exclusively from Bell Mobility on Canada's Best Network.

Designed to bring unprecedented computing to a smartphone, Motorola's webtop application brings a PC browsing experience with a full Mozilla Firefox 3.6 browser to a mobile environment. Motorola ATRIX supports Adobe® Flash® Player to open up all the rich graphics, animations and video on the web. Featuring a dual-core processor –with each core running at 1 GHz, delivering up to two GHz of processing power – 1 GB of RAM, coupled with webtop and a unique docking system, the Motorola ATRIX is, simply put, the world's most powerful smartphone.

"Motorola ATRIX ushers in a new era in mobile computing and converged electronics experiences, and we're thrilled to offer it to Canadians on Bell's state-of-the-art network," said Sanjay Jha, chairman and chief executive officer of Motorola Mobility. "The Motorola ATRIX is a symbol of the innovation consumers can expect from the new company that is Motorola Mobility. ATRIX is a revolutionary tool for staying connected, informed and entertained at home, on the job and anywhere in between."

"Motorola ATRIX is a ground-breaking product and offering it exclusively to Canadians fits with Bell's commitment to deliver products and services that lets business and consumer clients say 'today just got better,'" said Wade Oosterman, President of Bell Mobility & Residential Services, and Bell's Chief Brand Officer. "ATRIX and its mobile computing capabilities are ready to leverage the speed, coverage and quality of Bell's world-leading wireless network."

Motorola ATRIX delivers unprecedented mobile computing capabilities in a package less than 11mm thin, including:

A dual-core processor – which outputs up to two GHz of processing speed – for opening web pages twice as fast as most other smartphones, rendering games faster and displaying HD quality video on big-screen TVs.

A full 1 GB of RAM is twice that offered in most other smartphones and delivers effortless multi-tasking, such as watching a movie while receiving and responding to email.

The world's first qHD smartphone display, offering high resolution and 24-bit colour, making it easier to read indoors and outdoors

Facilitated by Motorola's webtop application and optional docking system that offer a larger screen, full-size keyboard and trackpad for an enhanced and more interactive experience, Motorola ATRIX can be used as a primary digital hub to create, edit and enjoy documents, media and content.

Motorola is introducing two industry-leading companion docks for the ATRIX:

The Motorola HD Multimedia Dock has three USB ports and an HDMI port, enabling connections to a keyboard, monitor, mouse, speakers or HDMI monitor for working on traditional PC tasks, and connects to an HDMI-enabled television and home theater audio system for enjoying video, music, games and more.

The Motorola Laptop Dock has an incredibly thin design with an 11.6-inch screen, full keyboard, stereo speakers, 36Wh three-cell battery that delivers up to seven hours of battery life and weighs just 2.4 pounds. Users simply dock their Motorola ATRIX 4G into the back of the Laptop Dock to experience true mobility at work, home and playing on-the-go in a form factor that's lighter and smaller than most laptops on the market.

While using the webtop application, business users with an existing Citrix account will benefit from the integrated Citrix Receiver application that provides secure, high performance access to virtual desktops as well as Windows®, web and office applications hosted on Citrix XenDesktop. In addition to the full suite of office productivity and email applications, users can also access a number of web applications such as Salesforce.com, Google Docs, and any HTML application or service from a full desktop browser.

Motorola ATRIX runs Android™ 2.2 with access to more than 100,000 apps and games in Android Market™.

Key features and specifications:

A dual-core processor capable of opening web pages twice as fast as most other smartphones, rendering games faster and displaying HD video on big-screen TVs

Front- and rear-facing cameras for video chat and the ability to record and output in HD

Biometric fingerprint reader for easily unlocking your phone while providing extra security

Under 11mm thin, with an extra large 1930 mAh battery for extended standby and talk time

Keep up to date on social networks with automatic delivery of messages through MOTOBLUR™, including the ability to locate, wipe and restore data if the device is lost or stolen

Up to 48GB of storage (16GB internal and optional 32GB MicroSD card) – enough to store thousands of songs, photos and as many as 15 full-length movies

Mobile Hotspot service for connecting up to eight Wi-Fi-enabled devices

Availability

Motorola ATRIX will be available exclusively to Bell Mobility clients in the coming months. For more information, go to Motorola.ca or to pre-register please visit www.bell.ca/atrix