Motorola ATRIX 4G replaces notebook/PC with Citrix NirvanaPhone tech [Video]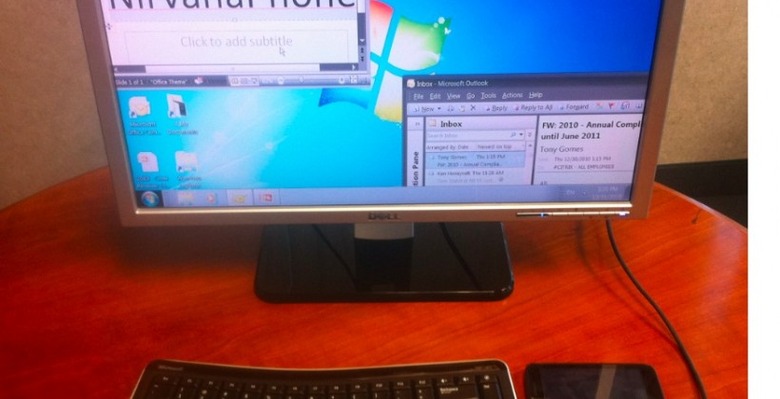 Citrix was pushing its Nirvana Phone concept on us almost a year ago, and now the company is gleefully claiming its soothsaying has come true. The device in question is Motorola's ATRIX 4G, which not only can output 1280 x 1080 video via its HMDI port, but also comes preloaded with Citrix Receiver so that you can run a virtual desktop wherever you are.
That means you can plug a display into the ATRIX 4G, pair a Bluetooth keyboard (or, indeed, use Motorola's own special ATRIX 4G HD Dock and USB peripherals) and get up and running with a Windows 7 desktop as if you were in your office. Alternatively there's Motorola's Webtop laptop dock, which has a keyboard and 11.6-inch display of its own, and which will also work with Citrix Receiver.
"Audio is currently not supported and not all of the HDX features are available, however, it's easy to multitask and bounce out of the Citrix session and run YouTube and audio with the native Firefox browser, or even take phone calls. In "windowed" mode (vs. full screen) the webtop environment can display Citrix hosted apps alongside native Firefox windows, plus an Android window making a phone call at the same time" Citrix
Paired with the full Firefox browser on the ATRIX 4G, it's perhaps the closest we've got the original promise of UMPCs working as our mobile devices as well as our PC replacements. The Motorola ATRIX 4G will arrive later in 2011 on AT&T.
Citrix Receiver with Motorola ATRIX 4G and HD Dock:
Citrix Receiver with Trackpad and Bluetooth keyboard: