Belkin outs USB-C range for MacBook and Chromebook Pixel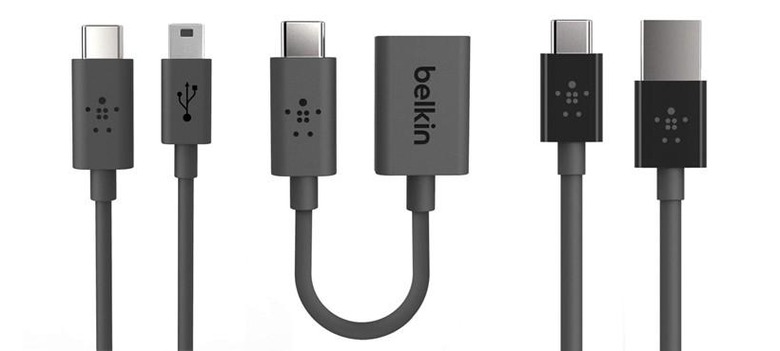 Belkin has waded into the USB-C arena, joining Apple and Google in announcing an array of cables, adapters, and dongles, many of which are designed to bring old peripherals up to MacBook speed. The eight-strong lineup won't start shipping until this summer, Belkin says, whereupon it will span a range of USB 2.0, USB 3.0, and ethernet options. What we're still yet to see, however, is any sort of more complex USB-C docking station that could take on the role of a desktop hub.
A USB-C 3.1 to USB-C cable will be $29.99, Belkin says, as will a USB-C 3.1 to Micro-B cable, and a USB-C 3.1 to USB-A cable. $19.99 will get a USB-C 2.0 to Mini-B cable, a USB-C 2.0 to USB-A cable, or a USB-C 2.0 to USB-B cable.
Finally, there'll be a USB-C to gigabit ethernet adapter, pricing to be confirmed.
While USB-C is being heralded as a far more straightforward connectivity standard, particularly given that the plugs can be inserted in either orientation, there is one potential confusion in the mix.
That's the fact that, in the USB-C ecosystem, there are two types of cable: regular, and "charge". Regular cables support up to USB 3.1 data speeds of at most 10 Gbps, as well as the charging of devices. "Charge" specific cables, meanwhile, still do data, but only at up to USB 2.0 rates.
Belkin already offers a number of hubs, including one which connects to a Mac via Thunderbolt, but is tight-lipped on the possibilities of a USB-C dock. That would certainly make sense, seeing that – while lower bandwidth overall than Thunderbolt 2 – USB-C is capable of supporting not only data for peripherals but hooking up to a display and supplying power to charge a notebook.
SOURCE Belkin