Beats' Powerbeats2 earphones now available in Apple Watch sport band colors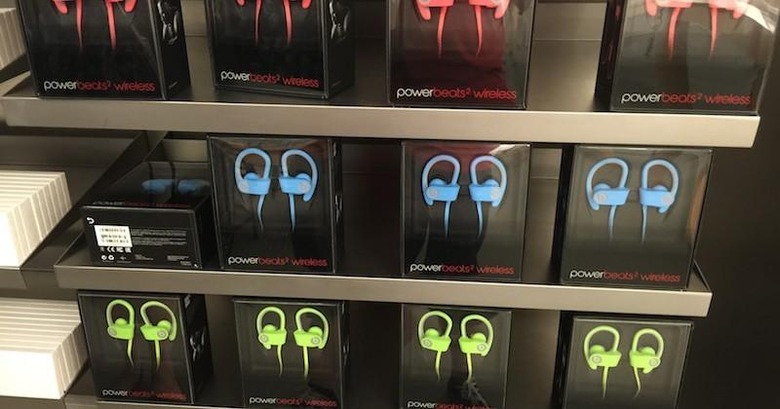 Now that Apple has made the Beats Solo2 headphones available in its signature gold, space gray, and silver colors, it's making a similar move with the Powerbeats2. The wireless in-ear headphones now come in colors that match the sport bands of the Apple Watch: blue, pink, green, white, and black. The new colors are available starting this week at Apple's retail and online stores, but haven't yet reached other merchants. They still come priced at $200, the same as the original Powerbeats2 colors.
The new earphone colors make a logical pairing with the Apple Watch, as the wearable has 2GB of storage space for music that doesn't require a tethered iPhone to be nearby. The Watch can connect with wireless headphones, including the Powerbeats2, via Bluetooth 4. That doesn't mean the earphones will only work with Apple's products, however, as they are compatible with any Bluetooth 4 device.
The Powerbeats2 were first introduced one year ago, shortly after the announcement was made that Apple was purchasing headphone-maker and music service Beats. There is no difference in specs or features between the old and new colors, which means they are still subject to the criticism of high bass levels, an issue that has been common with Beats' headphones for several years now.
With Apple bringing Beats headphones more in-line with their branding via color, the next update we see might be the over-ear model headphones in colors matching the stainless steel Apple Watch, or even the exclusive gold Edition.
VIA MacRumors
SOURCE Benjamin Thomas/Twitter