BeamBox MiLi Evolution iPhone Projector gets bargain price-tag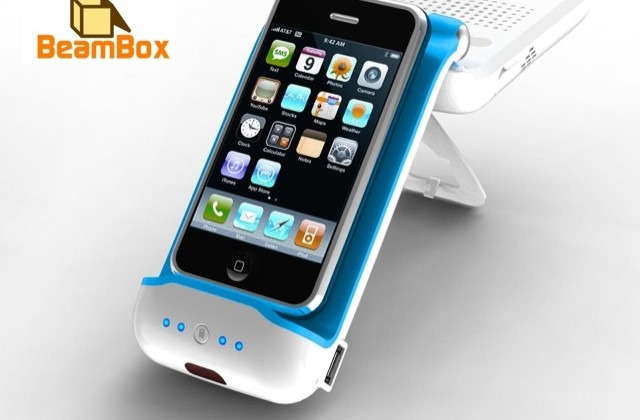 We're so used to seeing pico-projectors integrated into futuristic concepts that have little chance of shipping, that to hear about a product actually headed to shelves is quite unusual.  BeamBox's MiLi Evolution iPhone Projector looks like the sort of thing some industrial designer would use to try to make his name, but the combination iPhone/iPod touch case, projector and charging cradle is actually expected to go up for preorder at the end of November.
As for pricing, it's a reasonable £199 (pre VAT) in the UK or $350 in the US.  That's an expensive iPhone case, certainly, but not at all outlandish for a pico-projector right now.  BeamBox themselves are currently selling their standalone Evolution R-1 – which we tested back in March – for $420.
You're not just limited to iPhone content, either; there's both an AV and VGA input together with a built-in speaker and an audio output.  Brightness is 10 lumens with a 100:1 contrast ratio and 640 x 480 maximum resolution.  The integrated battery can either be used solely for powering the pico-projector, or it can actually recharge your iPhone.
What we don't know is exactly when the MiLi iPhone Projector will ship, but we're guessing it won't be too long after preorders start.  After all, a reasonably priced iPhone pico-projector could please a whole lot of people under the tree this Holiday season.