BBM Android and iOS user guides suggest launch imminent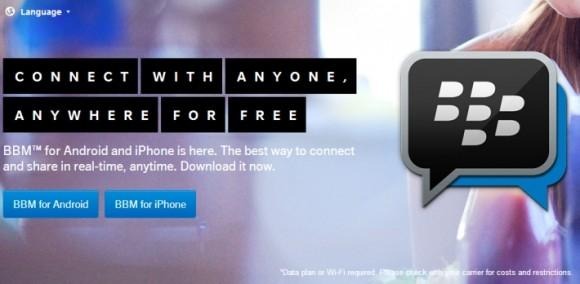 While the BlackBerry brand may not be doing as well as they'd hoped with the launch of BlackBerry 10 and the devices it runs on, an impending BBM (BlackBerry Messenger) app for iOS and Android still appears all the rage. This app has been announced for both Apple mobile products and Google's Android, but no final launch date has been made official. Today's leak of a couple of user manuals – one each for both of the platforms – suggests that the launch of the apps may be nearby.
Both of these guides appear trough BBNews to be early versions of what will be sent out to business users of BBM. While an app such as this shouldn't necessarily need a user guide for the common everyday message-service-user, BlackBerry continues to make their way into the enterprise universe – a place where they continue to make their presence known, no matter their trouble in the consumer world.
BBM is a messenger service that takes text messaging and amps it up with the inclusion of media sharing. You can start BBM chatrooms, create a BBM Pin code for cross-device usage, and work with emoticons till the cows come home. This sort of service was extremely popular in BlackBerry's heyday due to the early inclusion of basic "better than text" features.
• BBM profile: Choose a display picture, name, and status that your BBM contacts see. You can also view your unique BBM PIN from your profile by tapping Show Barcode.

• Invite: Invite people to chat with you in BBM by scanning a BBM barcode or by entering a phone number, email, or BBM PIN. Contacts who don't have BBM yet can download it from your invitation.

• Chat: Share your thoughts and experiences using instant messages, pictures, and voice notes.

• Emoticons: Express yourself with classic BBM emoticons.

• BBM Groups: Plan events, track to-do lists, share pictures, and chat with up to 30 of your friends, family, or coworkers in one group at the same time.
Above you're seeing a collection of features included in the BBM guides that've leaked this week. At this point you could get this whole set of features from an app like Line, Samsung's ChatON, or even the basic Messenger services in Facebook or Android itself – unless you're a hardcore BBM lover from way-back, it should be made clear that this service won't necessarily be ground-breaking when it's eventually released (as far as unique features go). Until then you may want to have a peek at Hangouts, too.
VIA: CrackBerry