Battery-powered, wire-free Bluetooth speakers are a worlds-first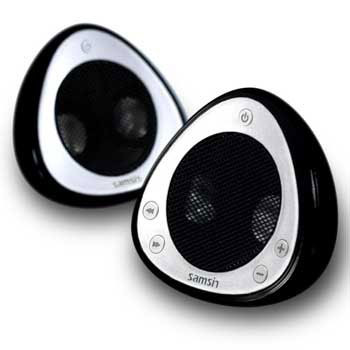 The many interpretations of 'wireless' could easily give you a headache, but here's something that seems to satisfy even the most stringent of definitions: Samsin's SBS-6600 Bluetooth Speakers.  A pair of rounded, vaguely-triangular blobs, they not only have rechargeable batteries so that there's no PSU required, but there's also no cable connecting the two.  Apparently that's enough to let Samsin call them a "world's first".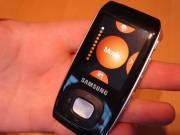 With a 880mAh LiIon battery in each rated for 8hrs of solid playback and 240hrs of standby, it takes 3.5hrs to recharge with the included adaptor.  They weigh in at 265g and have a 10m range using the Bluetooth 2.0 A2DP and AVRCP standards, meaning you can use it with most music-playing cellphones and Bluetooth-enabled PMPs like Samsung's YP-T9 (see our review here).  There's also a plug-in Bluetooth adaptor for gadgets without the wireless technology built in.
1.2W per channel isn't going to be knocking any houses flat, nor small children for that matter, but as a highly-compact and convenient solution to enjoying your tunes they seem to make sense.  They're priced at £69.99 ($138.97)
Product Page [via Pocket-lint]