Batman Vs Superman Teaser Delivers New Batmobile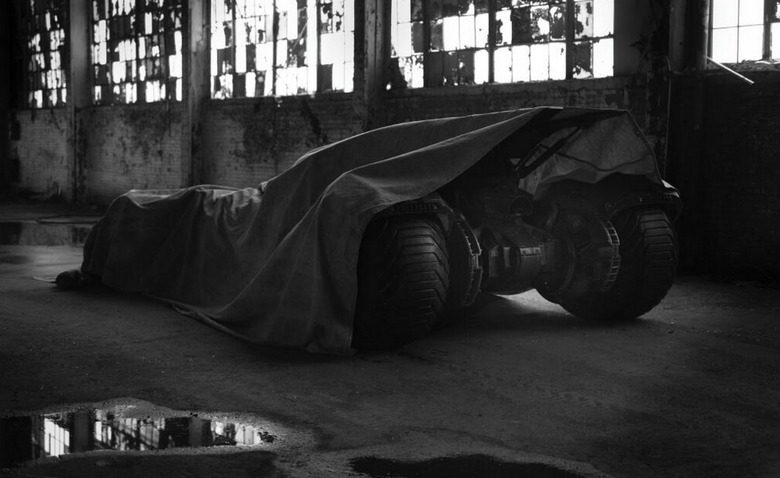 Covered in a bit of a tarp, the newest Batmobile to hit the streets of Gotham City and Metropolis has been partially unveiled this afternoon. Director Zach Snyder has let just the tiniest bit of this vehicle be shown, suggesting that the full unveil will have to wait a bit longer.
As it was made clear with the first teasers for the newest Batman video game Arkham Knight, the Batmobile is easily one of the most hotly anticipated elements in any Batman media release. In the previous Batman "Arkham" games, users were able to see the Batmobile, but never drive it. Here we're getting to see the Batmobile and experience it again on the big screen.
This vehicle looks to be a mix of old and new. With a pair of heavy-duty tires exposed along its backside, there's no doubt we'll not be losing the "Dark Knight" look of this machine. In the front there seems to be a bit of a slope – this would indicate a look far closer to that of the Batmobile from the Tim Burton film.
Click the thumbnail in the tiny gallery below to see the full-sized version of this image.
We're expecting that this Batmobile will, overall, edge toward the realistic rather than the fantasy. As it was proven in the previous trilogy, the public wants real hard-hitting action in a Batman that could – given the right set of circumstances – actually exist. This vehicle has to look like it could really drive down your alley.
Have a peek at our ever-growing collection of looks and news bits from Batman VS Superman and stay tuned as the film continues to be revealed through the future.
VIA: @ZackSnyder