Arkham Knight trailer unveiled for PS4, Xbox One, PC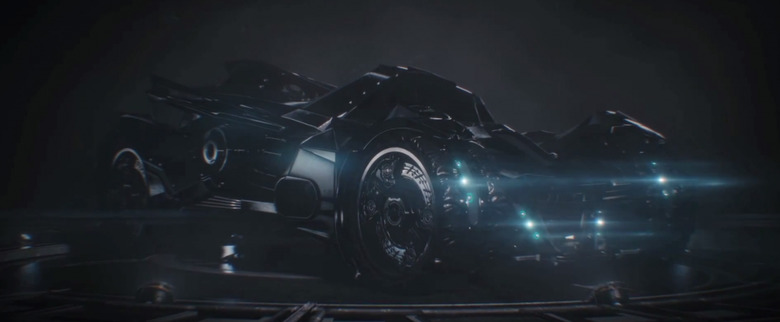 The final chapter in the Arkham series of Batman games is upon us, and it would appear that it's going to be the most classic of the bunch. In that we're not relegated to Arkham Asylum, or to a tinier city of Arkham inmates, or thrown back in time to Batman Year Two, here in Arkham Knight we're playing as Batman in his prime. WB Games will be distributing this title while Rocksteady is behind the wheel with development.
In the first trailer you're about to see, you'll find that this particular installment of the Arkham series is set in Gotham City. You'll be able to roll in the Batmobile for the first time ever, while we'd not be entirely surprised if we were able to jump in the Batwing as well – though that's not been confirmed by any means.
The team at WB Games UK have revealed that this game will include a storyline that begins with the Scarecrow. He'll have collected the Penguin, Two-Face, and Harley Quinn to battle the dark one – and you know good and well that wherever Quinn goes, our favorite clown is sure to follow.
"Batman: Arkham Knight introduces Rocksteady's uniquely designed version of the Batmobile, which is drivable for the first time in the franchise.

The addition of this legendary vehicle, combined with the acclaimed gameplay of the Batman Arkham series, offers gamers the ultimate and complete Batman experience as they tear through the streets and soar across the skyline of the entirety of Gotham City." – WB Games UK
This game will be released "worldwide in 2014" – for now we're not clear on the exact release date, but we're guessing a bit later in the year due to the lack of gameplay in the trailer. We shall see, soon enough!
NOTE: You can pre-order the game now to "play as Harley Quinn" – which would indicate she's playing for the good guys this time around – but she does nail a cop in the gut in the trailer. Her taking his cap, on the other hand again, might indicate she's switching sides here and there.
Above you'll see a number of screenshots from the trailer. We'll be on the deep-dive lookout for additional bits and pieces from here on out as well. Stay tuned!