Barnes & Noble preparing dual-display ebook reader? E-Ink and color multitouch tipped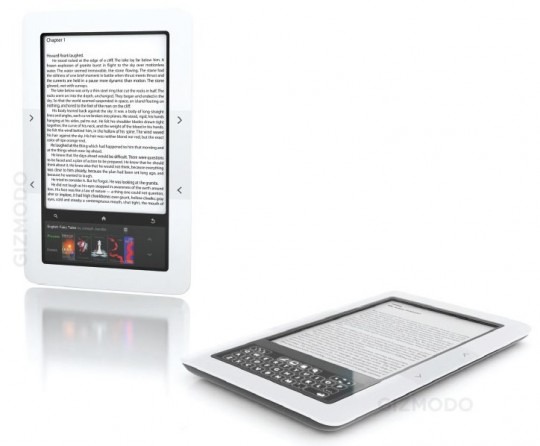 Barnes and Noble's kudos for apparently scoring a color ebook reader for 2010 might have been shot down in flames after Plastic Logic roundly denied any such intentions, but their cool-factor could be easily restored should the device you see here be what's on the cards for an imminent announcement.  According to Gizmodo, you're looking at B&N's dual-display ebook reader, with a monochrome e-ink panel on top and a smaller, color multitouch panel (like the iPhone's) underneath.
The e-ink panel would be used to display book content, and have the usual sunlight-visibilty, low power and text-crispness benefits we've already seen on the Kindle and numerous other ebook readers.  However the color touchscreen below it would be used to show menus and an on-screen QWERTY keyboard, and used to quickly navigate the device.
So far rival ebook readers have either used a hardware keyboard, which takes up chassis space and lacks the flexibility of a touchscreen-based interface, or used a touchscreen layer across the whole of the e-ink panel.  As has been seen on some touchscreen Sony ebook readers, however, going the latter route can impair e-ink visibility.  B&N's apparent solution would offer the best of both worlds.
Gizmodo claim the device – the codename of which they can't reveal – will be able to access Barnes and Noble's ebook store, where it will have access to texts "at a deep discount compared to print editions" together with content from the Google Books project.  No word on pricing, but SlashGear have been invited to a B&N event next week; let's hope this is the gadget the publisher brings to the stage.