Plastic Logic deny B&N color ebook reader in 2010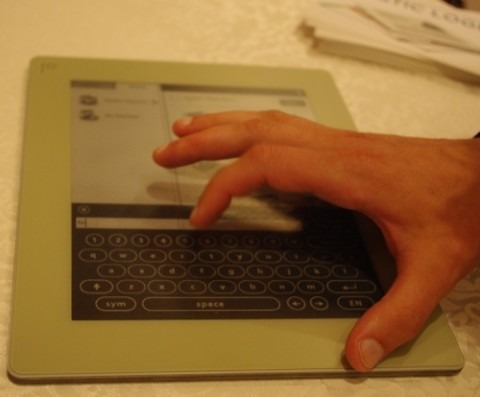 Last Friday's news that Plastic Logic were apparently building a color ebook reader for Barnes and Noble now looks to be a little too optimistic; the company – who are on course to deliver their first, monochrome model in early 2010 – have denied that a color device is pipeline for next year.  According to Plastic Logic, the Barnes and Noble employee who seemingly announced the color ebook reader "was misinformed" and not an "authorized" spokesperson of the retailer.
"The video report is inaccurate and the individual (who was apparently filmed while attending a trade show was not an authorized Barnes & Noble spokesperson) was misinformed. We are excited to have Barnes & Noble powering the Plastic Logic e-commerce store. While colour is on Plastic Logic's roadmap, it is not on the map for the Spring of 2010. Plastic Logic has said for quite some time it is working on colour, but not for a product in the coming year" Plastic Logic statement
Barnes and Noble have not yet commented on the speculation, although it was apparently one of their own employees who was interviewed on video at a tradeshow recently.  That employee suggested not only that a monochrome ebook reader – complete with wireless connectivity – was imminent, but that B&N were working with Plastic Logic on a color version for launch in spring 2010.
Plastic Logic still maintain that they are working on a color ebook reader, however they're yet to launch the first device.  That is expected to have integrated 3G GSM connectivity, and offer access to various ebook stores and periodicals.
[via Geek]