Barnes & Noble nook Lite Will Supposedly Feature WiFi Only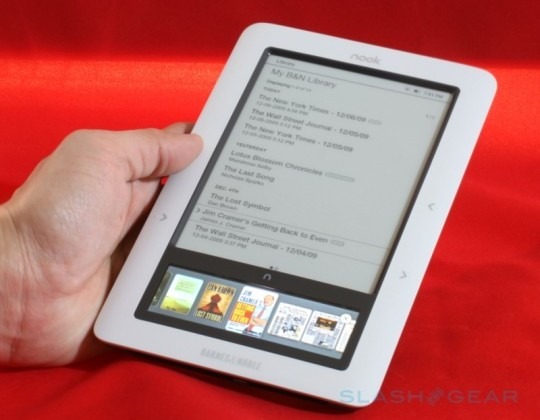 The Barnes and Noble nook has been available (mostly) for a few months now, so why shouldn't the rumors about what's coming next start up? Seems perfectly natural to us. And, after we reviewed the original and gave it a few high praises, we're just as interested as anyone else to hear about whatever it is that Barnes and Noble may be cooking up in the technological ovens.
According to a tipster, Gizmodo is reporting that there will actually be two "new" nooks arriving in the near future. The first is going to be the nook Lite, which is just a 3G-slimmed version of the original. Meaning, you're only going to be rocking WiFi on your Lite version. However, on a good note, that also means you'll be knocking off some of the price. According to the tip, the new nook Lite will go for $199 when it goes on sale at the end of the second quarter.
Now, for the nook 2. No details to give you. Except that it's supposedly coming out this year as well (perhaps by Christmas this time, B&N?), there isn't anything else to go on. Sure, we'll admit that there's probably going to be a second nook (as the first one did reasonably well for itself, even with its delays), but we've just got to kind of chuckle at this "rumor." Hey, did you know a new iPhone is coming out? Also, if you've got a nook for yourself, and you've been aching to get yourself a browser on your Android-powered eReader, then the nook v1.4 update is for you. And, shockingly, that update is supposedly coming out next week, which you can download over your WiFi connection. If anyone out there starts getting the update, let us know!
[via Gizmodo]