Barnes & Noble nook cracked open, rooted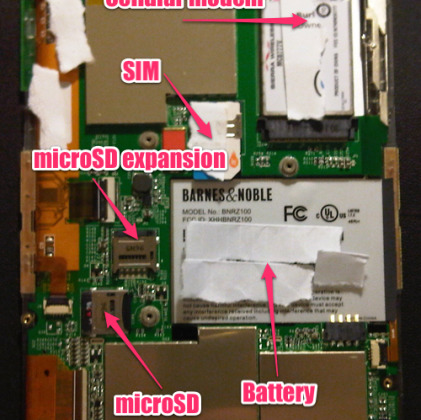 The lure of Android has brought hackers to the Barnes & Noble nook like piranhas to still-kicking meat, and it turns out there's plenty of intrigue inside the ebook reader.  Over at nookDevs they've not only stripped the device to its bare circuitboards, they've also managed to root it.
Points of note include Android seemingly being loaded onto a 2GB internal microSD card – potentially a cause of sluggish OS performance – and a Samsung S3C6410 processor that's actually capable of OpenGL ES 1.1/ 2.0 among other things.  The Android install itself, meanwhile, is a generic OS 1.5 build with some B&N customization on top
What should be interesting is how the nook gets hacked, especially given the interesting hardware.  The nookDevs contributors have already figured out a way to spoof the DNS and feed content to the nook as if it came from B&N.