Barnes & Noble nook arrives at Best Buy April 18th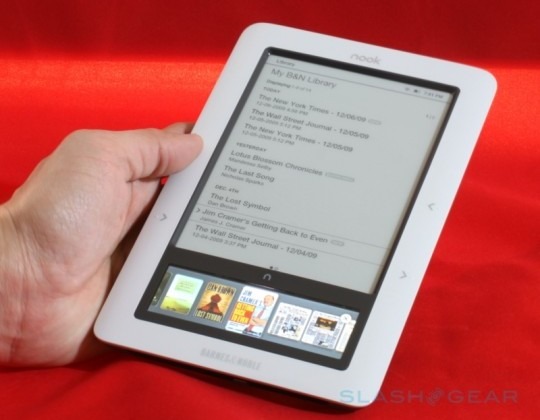 It comes as little surprise, but Best Buy have announced that – as of April 18th – they will be offering the Barnes & Noble nook in their retail stores.  The nook will be priced at $259.99, and be sold alongside B&N ebook gift cards for those wanting to give the dual-display ereader as a present (or if they're unwilling or unable to use their credit card).
Meanwhile, Best Buy will be preloading the Barnes & Noble desktop app on select notebooks, desktops, netbooks and smartphones, giving buyers a) an out of the box way to purchase ebooks, or b) another piece of bloatware to uninstall.  Still, if you're already a nook owner then the software can be sync'd to the hardware ereader, sharing ebooks bought on each together with notes and bookmarks.
However, unlike in B&N stores, there'll be no special "More In Store" content if you bring your nook back into Best Buy.  For more on the nook, check out our hands-on review and the demo video below.
Barnes & Noble nook demo:
[vms ca02b0d42dabeb8e46bb]
Press Release:
Barnes & Noble and Best Buy Announce Partnership For NOOK(TM) eBook Reader and BN eReader Software Distribution

Best Buy to sell NOOK by Barnes & Noble in stores and at bestbuy.com beginning April 18

NEW YORK, Apr 12, 2010 (BUSINESS WIRE) — –Best Buy to feature BN eReader software on PCs, netbooks, tablets and smartphones

Barnes & Noble, Inc. (BKS 22.66, -0.11, -0.48%) , the world's largest bookseller, and Best Buy Co., Inc. (BBY 45.11, +0.22, +0.49%) , America's leading consumer electronics retailer, today announced an exclusive partnership to distribute Barnes & Noble's popular NOOK eBook Reader and accessories, as well as free BN eReader software through Best Buy in the United States. NOOK is expected to arrive at Best Buy beginning April 18, just in time for Mother's Day, Father's Day and graduation gift season.

Through the partnership, the award-winning NOOK eBook Reader and stylish accessories along with NOOK and Barnes & Noble eBook gift cards will be prominently featured in Best Buy's 1,070 stores nationwide and online at www.bestbuy.com. As with Barnes & Noble stores, NOOK at Best Buy will be featured at a special in-store display where customers can see, try and buy a NOOK for $259.99 with the guidance of a trained Best Buy Blue Shirt.

In its growing eReader selection, Best Buy named Barnes & Noble a preferred eBookstore solution, offering more than one million eBooks, magazines and newspapers for download and enjoyment within seconds. Best Buy will feature Barnes & Noble's free BN eReader on select PCs (laptops and desktops), netbooks, tablets and smartphones sold at Best Buy and supported by its Geek Squad Agents, giving customers access to shop Barnes & Noble's world's largest eBookstore (www.bn.com/ebooks) and enjoy their Barnes & Noble digital library anywhere they go.

"To date, we've limited NOOK distribution to Barnes & Noble retail and online stores and the customer response to our eBook Reader has exceeded our expectations. We have enormous respect for the Best Buy organization and its focus on providing technology solutions for millions of customers. We're thrilled to bring NOOK, the BN eReader and our digital content expertise to Best Buy and its loyal consumer electronics-focused audience as a perfect complement to the book-loving Barnes & Noble customer," said Kevin Frain, executive vice president of e-commerce at Barnes & Noble.com. "Through this partnership, Best Buy customers will now have new and easy ways to access our expansive digital library on a variety of computing and mobile devices through BN eReader software and the Barnes & Noble eBookstore."

"Barnes & Noble long ago established itself as a premiere bookseller and more recently as a genuine innovator in the digital content space. Our two companies share a clear vision for creating tools that give people the content they want, when and how they want it," said Chris Homeister, senior vice president and general manager of the Home Entertainment Group at Best Buy. "We look forward to showcasing NOOK within our growing eBook Reader collection, and to helping customers discover the special appeal of this distinctive reading device and eBookstore solution."

NOOK marries innovative technology and sleek minimalist design with access to Barnes & Noble's digital store of over one million eBooks, newspapers and magazines. NOOK's color touch screen for navigation along with a best-in-class E Ink(R) display offers an immersive, enjoyable e-reading experience. It offers both free 3G wireless and Wi-Fi access and is the first eBook Reader to offer digital lending for a wide selection of eBooks through Barnes & Noble's breakthrough LendMe(TM) technology. In Barnes & Noble stores, all NOOK customers (regardless of where the device was purchased) can also enjoy fast and free Wi-Fi access to shop, exclusive More in Store content from leading authors, promotional offers and, coming soon, they'll be able to browse the complete contents of many eBooks or periodicals in the vast Barnes & Noble catalog.