Barnes & Noble May 24 event confirmed: NOOKcolor 3G?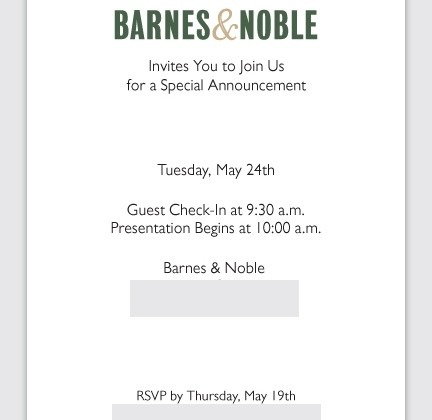 Barnes & Noble has sent out invitations to a New York City event later this month, presumably to debut the company's latest ereader. The invite for the May 24 launch gives nothing away, but thanks to an SEC filing last week we already know that there's new hardware on the way.
Barnes & Noble, the filing confirmed, "expects to make an announcement on May 24, 2011 regarding the launch of a new eReader device." Specifications and name weren't revealed, but there's a good possibility that this could be a 3G-enabled version of the NOOKcolor.
The NOOKcolor has already proved to be something of a surprise sales success, and B&N recently pushed out a firmware update that blessed the Android-based slate with more tablet-style functionality. Currently only a WiFi model is on sale, but B&N may well be looking to take on the iPad 2 more directly by throwing in some 3G. We won't know for sure – leaks aside – until next Tuesday.