Barclays: Larger iPad with 64-bit A7 could be a laptop killer in the works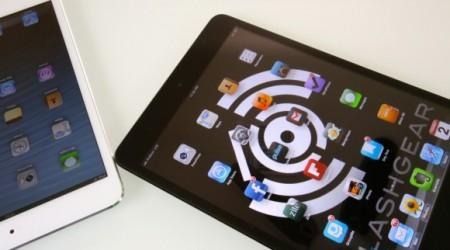 The folks at Barclays Equity Research have proposed an intriguing idea, stating today that it believes Apple to be working on a 13-inch iPad running the new 64-bit architecture — which was recently called a "gimmick" — that could be a laptop killer (for certain types of laptops, that is). The theory is just that — a theory — but Barclays backs it up with some seemingly valid assertions.
The research firm believes that such a device would offer, among other things, a smart cover with an integrated keyboard and trackpad combo, as well as a battery pack to boost the run time of the larger slate. It also says the 13-inch iPad could offer more RAM than present Apple slates do, a perk of the 64-bit architecture, which it says could be making the way for such a hybrid alternative.
Said Ben Reitzes, a Barclays analyst: "The whole iOS app ecosystem, extra-long battery life, ultraportability and user familiarity could be more compelling than a Mac if Apple made a true effort. And we believe a larger screened iPad would be a much better PC replacement than current tablets, including the Surface, and really be able to take on higher end tasks and start another wave of notebook cannibalization."
Whether Apple would lean such a direction is doubtful, given harsh remarks it has had for the Surface, of which the theorized device would be similar. That doesn't mean the possibility isn't there, however, and such a move could help draw in customers that Apple has seen bleed away in past months. It's worth noting that such notions — similar in nature, at least — have been around for a while now.
In 2011, for example, we saw a slew of tips and rumors surface that Apple would be ditching Intel in future Macbooks, replacing it with ARM, something Intel had called ridiculous at the time. In May of that year, word had surfaced that Apple was testing a MacBook Air prototype running an A5, the same innards as the iPad 2.
We've talked extensively about what an ARM MacBook could mean, and the notion of it arriving in a large iPad package only serves to add an extra element of intrigue into the mix. Of course, all this is the stuff of speculation, and Apple certainly hasn't spoken up on the matter. What do you think? Would you consider eschewing a traditional laptop for a larger iPad with a smart cover?
SOURCE: CNET