Bang & Olufsen Beovision Harmony is a shape-shifting TV spectacle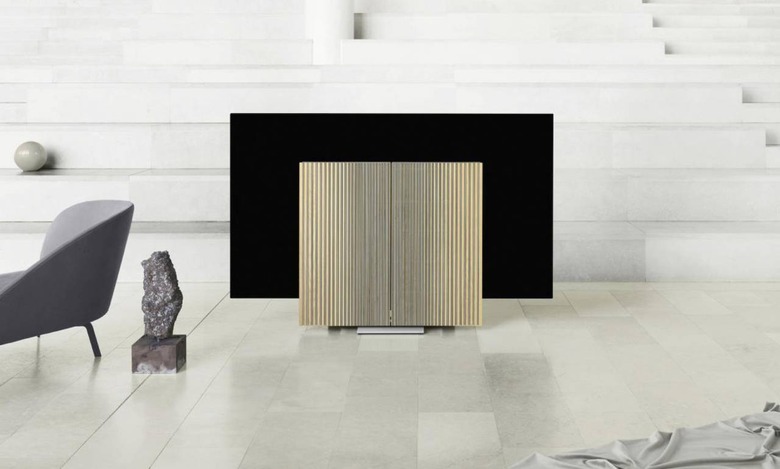 You can usually rely on Bang & Olufsen to make home entertainment tech that's almost more exciting than the media you play on it, but even by those standards the new Beovision Harmony TV is an ostentatious spectacle. The new TV, launched at Milan Design Week, dips into the classic B&O themes of theatrical movement and animation, rising and flourishing like a high-tech butterfly.
Powered off, the Beovision Harmony resembles a piece of Japanese sculptural furniture, or maybe an oversized Nintendo Switch in a fancier version of the console's dock. The screen measures in at 77-inches, while in front of it are two oak and aluminum panels.
Turn the TV on, and the screen rises up from its position low down to the floor, to the perfect viewing height. Meanwhile the two front panels fan open, hinging outward. Each contains speakers.
The goal, B&O says, was to make a TV that looked as good powered off as it does switched on. It's not alone in attempting that balance of course, though its strategy is at odds with other home entertainment companies which typically try to hide their TVs or make them resemble something different. LG, for instance,
rolls up its upcoming Signature OLED TV R
, while
masks itself as a huge picture.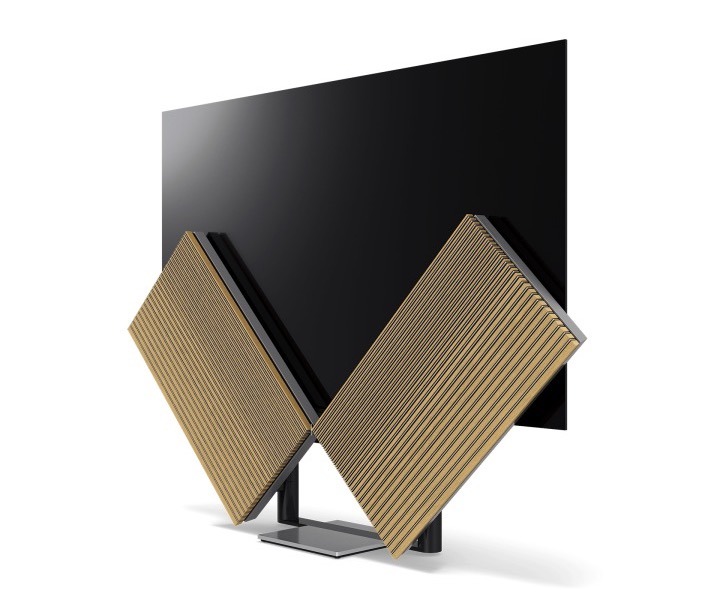 B&O's more eye-catching approach wouldn't work if it wasn't built to furniture standards, though. Real oak and aluminum are used for the fascia, though the company will also have a Grey Melange two-tone fabric and aluminum version. Both floor stand and wall bracket options will be offered.
Of course, a TV that only looks good powered off isn't much use. Bang & Olufsen has used an LG OLED panel for the Beovision Harmony's 77-inch screen, complete with Apple AirPlay 2 support, an integrated Chromecast for streaming, and Bluetooth. It runs LG's webOS 4.5, too, with preloaded apps for services like Netflix, YouTube, and Amazon Prime Video.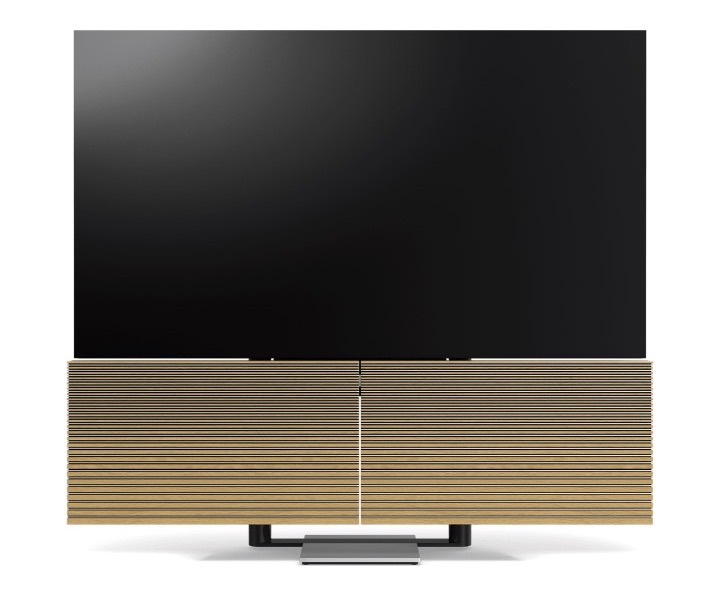 The audio system is a three-channel, fully active setup, though there's a built-in 7.1 channel surround sound decoder. That means Beovision Harmony can be paired with up to eight Beolab speakers – such as B&O's Beolab 18, Beolab 50, or Beolab 90 – for surround sound or multi-room playback. Everything can be controlled from a single remote, the Beoremote One.
Even by the standard of Bang & Olufsen, the Beovision Harmony will be expensive. The TV is expected to be priced from 18,500 euro, or around $20,700, when it goes on sale from October this year.