Avi Greengart's Last Minute Non-Obvious Holiday Gift Guide 2011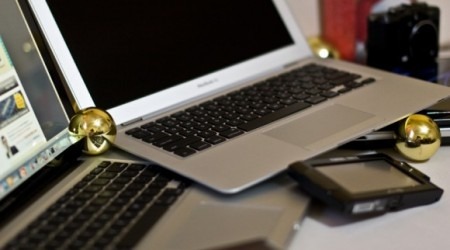 Every year SlashGear puts together a gift guide that covers all the usual big ticket gadgets that people want for the holidays. It's a great guide. However, what if you you're looking for something a bit different or trying to find something for someone a bit harder to shop for? That's what this guide is for.
Author's Lament
This year I had a tougher time than usual, not because vendors weren't willing to send over gadgets for me to test – oh, they were. It just seemed like this year I got a much worse percentage of products that just weren't good enough to recommend. To make this list, I had to suffer through bad streaming media boxes, terrible QWERTY remote controls, remote control helicopters that were not terribly controllable, clothing made with moisture-wicking technology that didn't work, useless car-finder gizmos, "revolutionary" earbuds that aren't, unique speaker systems that sound awful, and an extended battery system for portable game consoles whose installation can break the console itself. I nearly put the helicopter – Griffin's HeloTC – on the list anyway because sort-of-controlling a little helicopter via an iPhone is cool, and making family members scatter from a perpetually out-of-control helicopter can be great fun. I also received a slew of fitness-tracker gadgets, but haven't had the time to test them fully. Maybe I'll do a New Year's Resolution Gift Guide follow up.
Tablet and Smartphone Accessories
Last year I recommended Belkin's Woogie case, which apparently has been updated somehow (the upgrade did not arrive in time for this guide). Along the same thought lines, Speck figured out a safe way to give your small child an iPad – by encasing it in foam, making it adorable, and giving it handle arms. The iGuy ($40) works with either the original iPad or the iPad2 and leaves the 40 pin connector, headphone jack, and camera unblocked, but it can be a bit hard to get on and off the tablet.
For mounting an iPad in the car, I was impressed with Vogel's RingO modular docking station system ($100), which is pricey but fits securely around the headrest. The iPad snaps on or off easily and can tilt for optimal viewing angle. Vogel also sells an overpriced wall mount ($70) but that unit provides no tilt or extension – unlike many of Vogel's TV mounting systems. An under-counter mount would be ideal for people who use their iPad in the kitchen. Maybe next year?
I like to think of Dream Cheeky's iLaunch Thunder as a product that is just ludicrous enough to be brilliant: it is a wireless foam missile launcher controlled over Bluetooth by your iPhone, iPod touch, or iPad. The company has made similar products in the past that tether to your PC via USB and can be controlled by an iOS device over WiFi, but who wants to be tethered to a PC? The iLaunch has its own rechargeable battery, offers 270 degree rotation, 40 degrees of vertical tilt, and darts fly straight for about 20 – 25 feet. You can aim via accelerometer (great fun, impossible to get any degree of accuracy) or touchscreen (better, but still not perfect). The iLaunch will not make a dent in any serious cubicle war – firing time is too slow, and you're going to lose the four darts it comes with (Dream Cheeky really ought to include a few spares in the box). But it looks good, and when placed out of the way and carefully aimed ahead of time, can be a great way to ambush your boss. Just be prepared with a regular Nerf gun for the aftermath.
I'm a big fan of many of Speck's cases, mostly from familiarity – Speck is more proactive at distributing products to the media at trade shows than nearly any other accessories vendor – but my absolute favorite product of theirs right now are the soft-touch SeeThru SATIN MacBook Air covers ($50). It adds almost no depth or weight – critical for such a design-centric notebook – and protects the Air from scratches and dents (let's just say that it is possible to dent the Air's aluminum case and that you do not want to do this). As a bonus, Speck's cases can make your silver Air jet black or crazy happy orange. The product is mistakenly named "satin" which sounds... frilly. In reality, it's a rather awesome electric orangey hue.
I tested a lot of keyboards this year. A lot. Keyboards for Macs and PCs, keyboards for Android and iOS tablets, keyboards for Motorola smartphones. The good news is that I can recommend several of them, especially since many people buying tablets are trying to use them as notebook replacements. The productivity software I personally need for my workflow isn't "there" yet, but if your needs are different from mine, adding a physical keyboard can make a big difference in typing usability. My favorite overall is ZAGG's brand new FLEX Bluetooth tablet keyboard ($80). The keyboard case acts as a stand for your tablet, and a switch on the back changes the function keys from iOS to Android. Key travel and spacing on the not-quite-full size unit is good, and the internal battery is rechargeable. However, the real reason this is my favorite is because it is incredibly light and compact. Since I don't always use the keyboard, the minimal size and weight mean I am more willing to carry this one with me, just in case.
However, if you know you're going to be using a keyboard all the time, the slight additional bulk and weight of Logitech's Tablet Keyboard (in either iOS or Android versions, $70) is easily offset by superior key size, layout, and travel. Here, too, the cover serves as a tablet stand.
Honorable mention goes to two of Logitech's other iPad keyboards. The Keyboard Case ($99) sacrifices typing comfort with compressed keys and side ridges that dig into your wrists, but doubles as a handsome hard metal case for the iPad itself. Logitech also deserves credit for creating the Fold-Up Keyboard ($129), which is an expensive, bulky plastic contraption that transforms – literally – the iPad into a netbook. Lift the iPad, and a full-size butterfly keyboard slides open. It is endless fun to open and close, but not so fun to carry around. It also forces you to use the iPad in landscape mode, and the sliding mechanism makes the whole unit feel flimsy. Still the butterfly keyboard makes a great conversation piece, and I have a soft spot for objects that feel like Transformers toys.
Books
Barnes & Noble's Simple Touch ($99) is my favorite eReader for the technophobe. It has no ads, plenty of content, a dead-simple user interface, and a great price. However, if you're going to buy someone a vending machine, give them some quarters, will you? Buy them a Barnes & Noble gift card to get them started with their first book or two.
It's hard to believe, but there are still actual physical books on the market. If you know an adult LEGO fan, one way to delight them by validating their hobby is by giving them the coffee table-sized "The Cult of LEGO" ($39.95, no starch press). The book aims to provide a broad overview of the LEGO phenomenon rather than exhaustively cover any single aspect (such as professional model makers or conferences), but it could be perfect for the adult who has recently re-discovered LEGO – or one who hasn't yet.
Music
I travel a lot, and I'm always looking for a speaker to take with me on the road. This year's winner was Logitech's Tablet Speaker ($29.95), a tube that clips onto your tablet (or not – it works equally well sitting next to a notebook or plugged into an iPod or a phone). It isn't as compact as I'd like it to be, but is perfectly shaped to fit in that recess between the handles of a rollaboard, is incredibly light, and is fully rechargeable. This is a travel speaker and, while you shouldn't expect it to be heard over guests at a party, it plays louder and cleaner than internal speakers on tablets or notebooks. It perfectly fills a hotel room with music or can be used by salespeople who give presentations using an iPad.
Does it seem like I recommend a Sonos product each year? Yes. Does Sonos introduce a new recommendation-worthy product each year? Yes. This year Sonos simplified its naming scheme across all its products, launched a free Android control app for phones and tablets, and introduced the $299 PLAY:3, a smaller, lower priced entry into the Sonos line. For the uninitiated, Sonos is a dead simple way to add music to every room in your house – each room can be grouped together with other rooms, or can play its own soundtrack; music can come from your PC or the Internet. The $399 PLAY:5 is still the better sounding unit, but the smaller PLAY:3 can fit in tighter spaces. If you assign two PLAY:3's to act as a stereo pair, their combined output is preferable to a single PLAY:5. You can also BYOS (Bring Your Own Speakers) with the $499 CONNECT:AMP or jack into your home theater system with the $349 CONNECT. You can buy a dedicated Sonos CONTROL-er ($349), or use any iOS or Android device you happen to have lying around; either way, even the biggest technophobe will have no trouble using – or even setting up – the system. Warning: Sonos has been shown to be addictive. Buying a starter system for a couple of rooms may seem relatively inexpensive, but you will soon find that you "need" to add rooms to the system.
However, if you only want music in one room and you have an iDevice, there are dozens of sound docks vying for your attention. But what if you have an Android phone? Google doesn't mandate that Android phones adhere to any standard size or port layout, and there isn't a big enough market for any one Android phone for it to be profitable to build speaker docks for them. Philips saw this chaos as an opportunity, and came up with a unique sliding/rotating connector on the ($162) Fidelio Docking Speaker for Android. It works – I tried about a dozen devices, from the Galaxy Nexus to Motorola's XOOM tablet – and they all fit, though some fiddling was required in some cases, so this is one where you may want to test it with your phone/tablet in the store. The good news is that sound quality equals, or perhaps slightly exceeds what you should expect at this price level. The bad news is that Philips is cheating – the docking connector is just to keep your phone or tablet charged. To actually play music, you'll need to connect to the speaker over Bluetooth, a process I always find annoying and sometimes error-prone. Philips includes a remote control and has a music management app for good measure, but I wish it would take the extra step and build a music playback app that outputs digital signals through the microUSB connector, then does D/A conversion in the unit itself.
I often recommend headphones as a great accessory for music players and phones – most work with any device brand/OS, they dramatically improve the audio experience over the cheap earbuds that came in the box. The investment in a good pair of headphones can be enjoyed even as you upgrade to the latest iWhatever. There are terrific headphones at the $100 price point, but if you really want to invest and you were somehow unaffected by the economy, may I suggest ($1350) Ultimate Ears 18 Pro Custom In-Ear Monitors? It will be a truly unique gift, as each pair is custom made for the recipients' ears (you should also budget for a $75 to an audiologist for the mold making). The UE18's have six, yes, six individual drivers in each monitor, and the sound quality is astonishing. Sure, there are diminishing returns beyond excellent non-custom headphones such as Ultimate Ears TripleFi 10 ($399) or Shure's SE535 ($549) – both of which I highly recommend, and those can be found on sale, while the UE18's... not so much. Still, the difference is easily audible, particularly in the bass region; the UE18's reveal octaves of bass that lesser monitors cannot reproduce. (Note: I was not able to compare them to comparably priced Westone or JH Audio monitors, even though SlashGear has reviewed the JH16 Pro's. Those have been customized for Vince's ears, while these will only fit mine). My sole complaint with the UE18's is minor: they come in a great little hard aluminum case suitable for roadies, which is bulkier and heavier than the ballistic nylon travel cases Shure uses, which are better for traveling light and using the headphones inflight. That's a quibble. At this price, you should expect to be amazed, and these things are amazing.
Honorable Mention:
If you find yourself with an Xbox and Kinect system this holiday season, go to the Zune Marketplace (on your Xbox or on the web) and buy Fruit Ninja Kinect. For the life of me I can't figure out the Microsoft Points-to-real-money exchange rate, but the game costs about $6. Your soon-to-be-sore arms may never forgive me, but I am firmly convinced that one of the best Kinect experiences – along with Dance Central 2 (which somehow makes aerobics fun) – is a fruit slicing iPhone game.