Philips Fidelio AS851 Review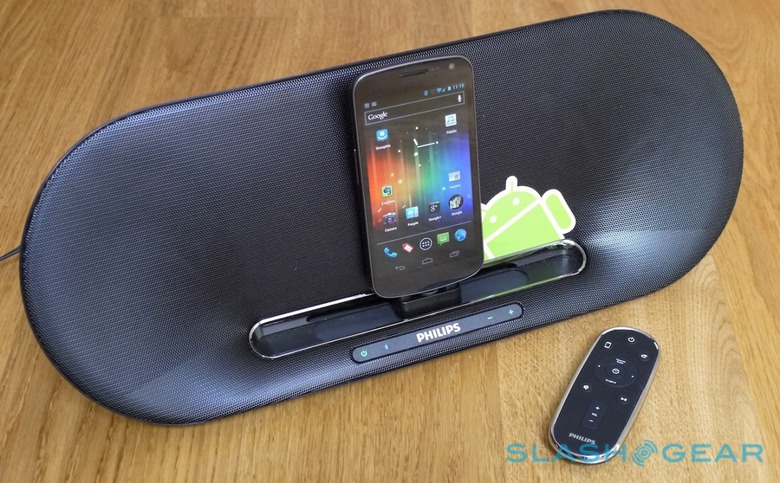 Android speaker docks are comparatively rare beasts. Several manufacturers offer models specifically tailored for their own handsets, but the market for generic docks has failed to ignite in the same way as iPhone and iPod peripherals have flourished. Philips reckons that's all down to USB port differences, and has come up with a clever FlexiDock system for its new Fidelio Android speaker dock range. We've had the top-spec Philips Fidelio AS851 in the SlashGear jazz lounge and boudoir for a while now; is it boom or bust? Check out the full review after the cut.
Hardware
Fingerprint haters, look away: the Fidelio AS851's glossy black plastic body is an ideal way to keep a record of everybody who grazes it with their fingers. The plastics themselves are solid and flex-free, however, and the metal mesh front is less demanding of your polishing cloth. It's worth noting that the green Android peering out at our Galaxy Nexus in the photos is just a sticker; you can peel it off if you're feeling more discrete in your platform choices. Behind the mesh are two 3-inch drivers each with 15W of amp power.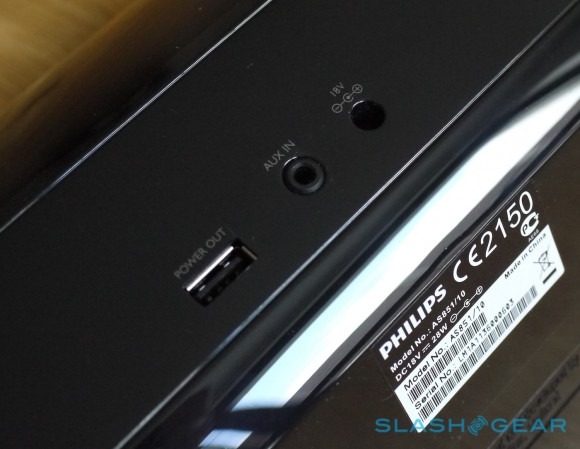 Ports include a 3.5mm aux-in (with a suitable cable in the box), a power port for the AC adapter and a handy USB port for charging a second gadget (or one that doesn't use microUSB, such as the proprietary ports on Samsung's Galaxy Tab slates). Up front there's a power button, a Bluetooth status light and volume up/down buttons. A sturdy little IR remote is included, controlling power, source (Bluetooth or aux-in), mute, play/pause, track skip, volume, and offering shortcuts to the internet radio function of the companion Fidelio app (more on which later), the Songbird app and the Fidelio app's clock screen.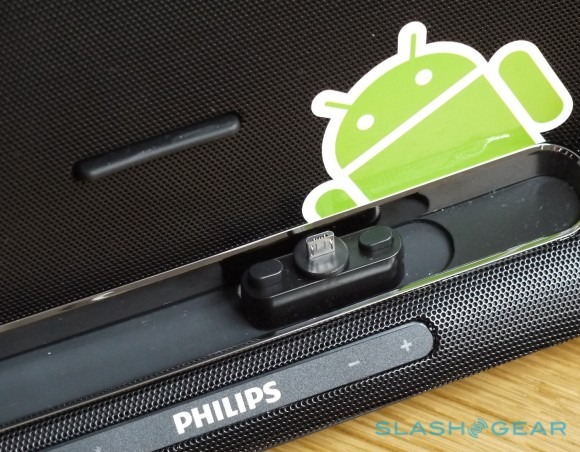 It's the FlexiDock system that Philips is so proud of, however, the company's patent-in-process way of dealing with Android device manufacturers' refusal to standardize on where microUSB ports are located. While an iPhone dock only has one port to consider, Android phones spread their USB options far and wide: some have a socket on the bottom, like the Galaxy Nexus, while others opt for it on the side, like HTC's recent line-up.
Philips Fidelio AS851 overview:
As the video above shows, the FlexiDock puts its microUSB plug on a moveable platform that slides left and right to accommodate phones in horizontal orientation. There are two support blocks, the height of which can be independently raised/lowered to suit, and the plug itself can be rotated 180-degrees. In short, it caters for most devices with a microUSB connection, and while it can be a little wobbly until you get the support blocks just right, it certainly works.
However, USB isn't used for music, only for charging: instead, Bluetooth A2DP comes into play. That means that, while Philips bill the AS851 as an Android speaker dock, in actual fact it will work with any gadget that supports the stereo Bluetooth standard: Windows Phone, iPhone, Mac or PC, all are welcome. Bluetooth use is independent from charging, too, so even if your device won't fit in the dock physically – the top-mounted, flap-covered port on Nokia's Lumia 800 comes to mind – you can still stream music from it.
Software
iPhone docks have simplicity in their favor: plug your smartphone in, and music comes out through the speakers. Bluetooth could add a layer of unwanted complexity to the Fidelio AS851, and so Philips offer a free Fidelio app in the Android Market. That can be found by scanning a QR code on a sticker on the dock itself when you first open the box.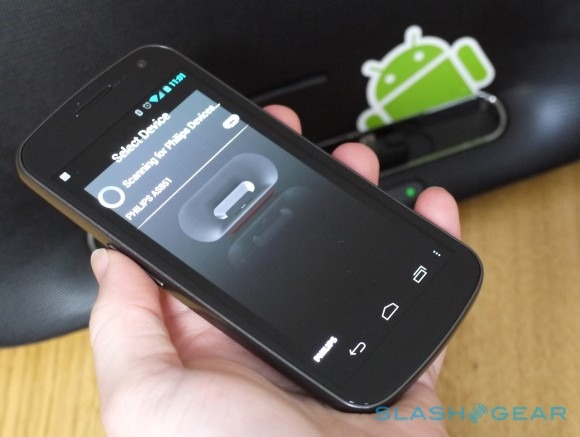 Run the app, and it scans and pairs with the AS851; later, whenever you dock your phone to charge, the Fidelio app restores the Bluetooth connection automatically. We had no problems with this with Android 2.x devices, though a Galaxy Nexus running Android 4.0 did periodically pop up the "Connecting Bluetooth" message in the notification bar, even though the phone was already connected and music was playing.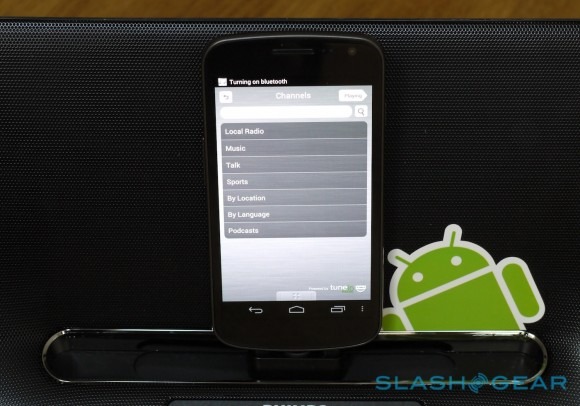 The Fidelio app also offers access to around 7,000 internet radio stations, sorted into genre categories and the like. It also prompts you to install Songbird, a music player app that supports straightforward synchronization with your desktop music collection. However, any app that outputs sound will play through the Fidelio: we had no problems with Spotify or YouTube, though to enjoy videos through the latter on our Galaxy Nexus we had to undock it since there's no support for device rotation. The remote control's play/pause and track skip buttons worked with Spotify, though it was frustrating that there was no override to stop the phone's display from locking after a few moments: if we wanted to see what was playing, we had to unlock the phone again.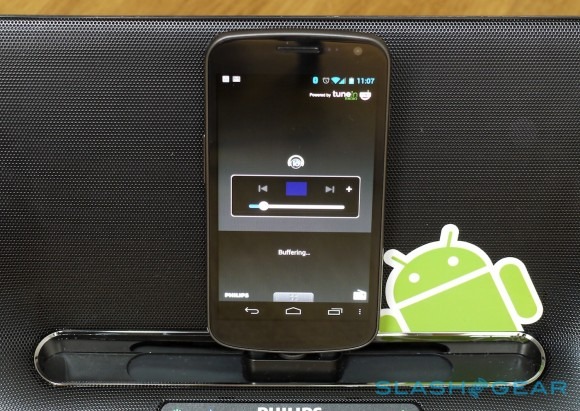 Unfortunately, Philips hasn't outfitted the Fidelio AS851 to handle voice calls. When a call came in, music paused but the audio was routed back to the smartphone's own speaker. The AS851 lacks a microphone, too, even if Philips updated the firmware to support routing in-call audio through its speakers.
Performance
Loud but not especially refined is the order of the day with the AS851, though we can't blame the dock's speakers and amp entirely for that. Bluetooth A2DP is a lossy standard, and while the Fidelio can be cranked up room-fillingly high, that tends to reveal the crunchier bass and not entirely shimmering top-end. Switch to a wired connection via the aux-in and the limits of Bluetooth become clear: the same source sounds that little bit crisper, that little less distorted at higher volumes.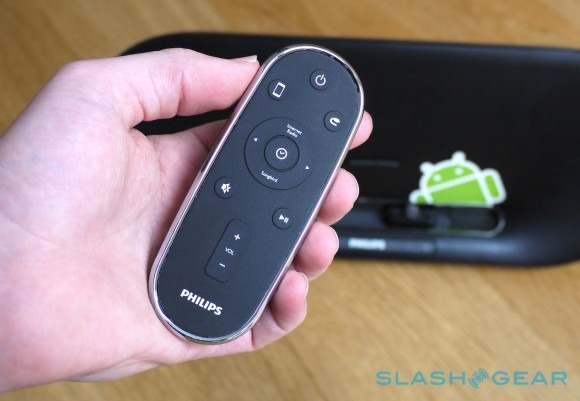 It's frustrating, though we do recognize that while Philips could have opted for a lossless alternative like Kleer, or a Bluetooth lossless option like apt-X, it would've been reliant on smartphones supporting those too. That's still uncommon, leaving Bluetooth the broadest possible choice.
Generally, quality is decent, and at regular listening levels we had no problems. Bass has a fair thump to it, and vocals pipe through the mix neatly; classical music suffered from more noticeable fuzz than, say, pop, rock or rap. Equalizer settings are handled through the Fidelio app, with various presets and degrees of manual tinkering possible if that's what makes you happy. It's certainly useful being able to charge a second device from the rear USB port.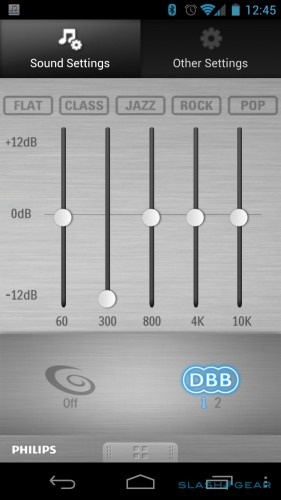 Wrap-Up
Any generic Android speaker dock is going to be a compromise in comparison to Apple's tightly-controlled ecosystem, but that's the price you pay for the flexibility in device options Android has enabled. Philips FlexiDock system certainly addresses it in the most reasonable way we've seen to-date, and the use of Bluetooth means you're not actually limited to Android phones or tablets at all.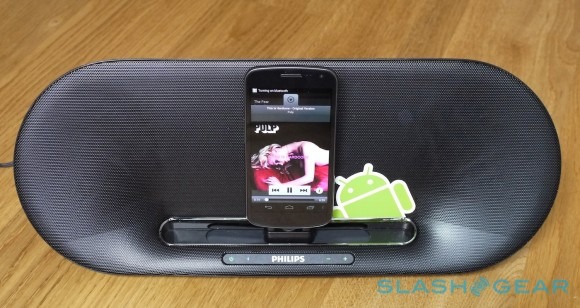 Bluetooth also brings its own drawbacks, of course, with less than stellar audio quality being our main frustration with the AS851. Paying $200/£200 for a speaker dock when you know there's a trade-off in quality rankles somewhat; for that reason, Philips' cheaper, smaller AS351 ($130/£130) and AS111 ($90/£70) models arguably make more sense, since their more conservative audio ambitions perhaps better match those of Bluetooth A2DP.
Still, for casual listening, the Philips Fidelio AS851 packs a hefty punch and looks the part. Philips' docking system is clever and the flexibility of the Bluetooth/app setup leaves plenty of room for the various media apps proliferating on Android. Audio purists will want to look elsewhere, but if simplicity and versatility are your primary concerns then the Fidelio AS851 is worth considering.