Augmented reality tool applies virtual makeup in real time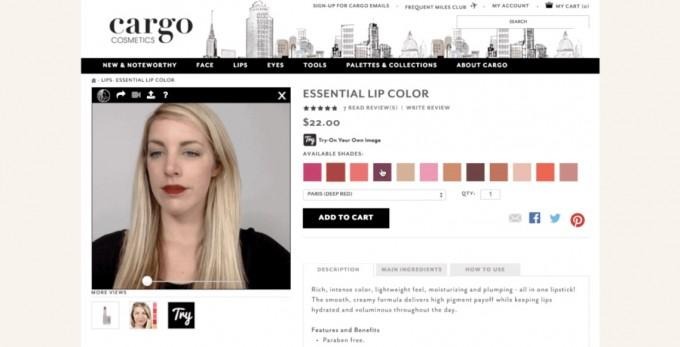 Using augmented reality technology to try on clothes and jewelry isn't something new, with users able to see items as a virtual overlay on their body, but they all require specific hardware, such as a smart mirror outfitted with cameras and software. But FaceCake has created an AR platform that work right from the browser, with no downloads required, and users don't need to upload a still photo, as the display works in real time.
Cargo, an online cosmetics store that has partnered with FaceCake, has already launched the AR feature on some of their products like eyeshadow and lipstick. The tool is powered by HTML5 and JavaScript, so as long as users have a webcam on their computer, they can virtually try on different colors of makeup.
Much like buying clothes online, sometimes makeup just doesn't look as good as one hoped once tried on at home. FaceCake's AR tool can help solve this issue, as well as reduce the need to go to a store in person.
Since the technology is running over the web, it may not always be as accurate in placement as something like AR-equipped dressing room mirrors or Samsung's mirror display television with 3D cameras. Turning your head too quickly or moving too close to the camera can make the virtual makeup misaligned on the face.
VIA Engadget