Audi traffic light connected cars get green light for fall launch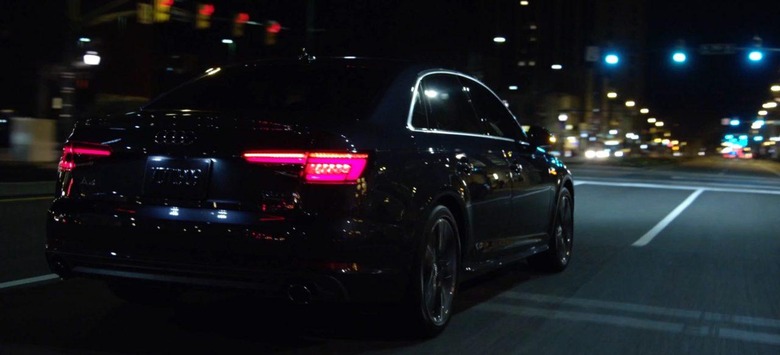 Audi's A8 will be the first Level 3 autonomous car to hit the market, coming in 2018, but before then the German automaker plans to push live traffic light alerts directly to the dashboard of select models this year. The new Audi Traffic Light Information system will switch on this fall, and is expected to operate across as many as seven US cities by the end of this year, to try to dilute some of the frustration when you're waiting for the lights to change, as well as encourage you to keep your phone in your pocket and the traffic flow moving.
It's part of Audi's ongoing intention to be in pole position when it comes to commercializing new automotive tech, having been the first to launch features like in-car WiFi hotspots.
"The confluence of [cars and technology] is becoming a grayer area as we go," Mark Dahncke, general manager for product, technology, and motorsports communications, told press in San Francisco ahead of today's announcement.
Audi is no stranger to high-tech automotive technology. While the company's Virtual Cockpit, a high-resolution display that replaces all the instrumentation in the driver's binnacle, may be one of the more noticeable examples of the push toward digital, it's also been working on autonomous technology lurking under the sheet metal.
On the one hand that's what Audi describes as Piloted Driving, that falls in-between cruise control and what we might think of as true autonomy. A combination of adaptive cruise, lane-keeping assistance, and automatic braking, it's intended to augment – rather than replace – the person behind the wheel.
NOW READ: Racing against Audi's self-driving car
Cars like the A4 and Q7 are already on sale and on the road with Piloted Driving, but in parallel there's Audi's work on truly self-driving vehicles. We've already seen just what Audi's "Jack" autonomous prototype can do on the track; the automaker is also running real-world trials, most recently in Washington D.C. where it took law-makers out on drives to encourage them to give the green-light to laws more conducive to commercializing such systems.
"A big portion of the work that we're doing is working with government," Dahncke explained, "to try to get legislators to figure it out, this piloted driving, so they can figure out how to drive this forward."
It'll take some time before we have cars – no matter the badge on the hood – that can pick us up at the door and drop us off at work with no involvement beyond setting a destination, both for technological reasons and legislative, but Audi plans to push the envelope there as much as it can. The automaker plans to be the first to offer so-called Level 3 autonomy commercially in the all-new Audi A8, expected to be on the market in a couple of years time.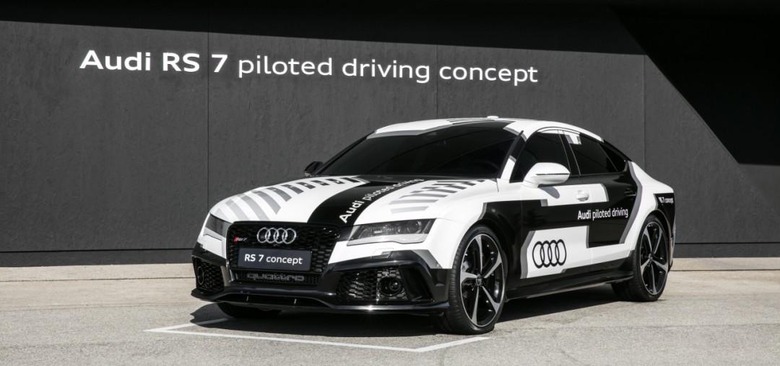 Level 3 is, according to the Society of Automotive Engineers (SAE), "conditional automation". That's defined as a step beyond adaptive cruise control and lane-keep assistance, but only automated driving in certain, controlled situations. The driver still needs to be able to take back control, though the definition does allow for a "sufficiently comfortable transition time" for that to take place.
"Audi really believes in a step by step introduction of driver assistance systems," Anthony Foulk, senior product manager for Audi's A6, A7, A8, and Q7 models says. "With the next generation A8, that's coming in 2018, we'll bring a new suite."
That'll be an umbrella atop technology like an intersection assistant, a top-view 3D perspective building on the birds' eye view some cars currently offer, adaptive cruise assist and maneuver assist, and turn assist, all intended to keep the car in the lane rather than getting scraped as you navigate tight turns and unfamiliar routes.
Initially, Audi's Level 3 autonomous driving will take place at limited speeds and in congestion. It's "the first truly hands-free system," Dahncke claims, "under 35 mph there'll be traffic jam pilot, the car will drive itself."
Beyond that, the automaker expects to extend support to driving at highway speeds, and then finally piloted city driving, though Audi isn't saying when, exactly, they'll be available or indeed if it'll be the upcoming A8 that gets them. As well as the 35 mph speed limit for the initial system, Audi will use various sensors to figure out whether the driver is in place, that they're healthy and not having a medical emergency, and in a sufficiently aware state to take over should that be required.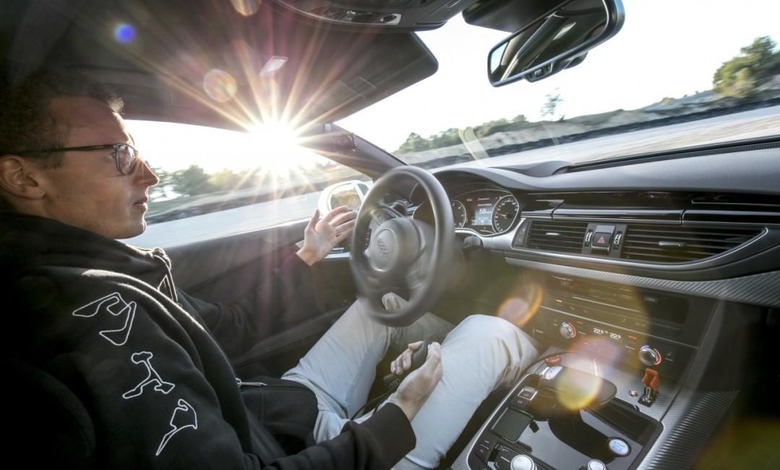 The comparison – and unspoken fear – of course are the recent headlines around Tesla's Autopilot. Audi's team is, unsurprisingly, reluctant about commenting on its rival. "There has been a lot of misunderstanding there, and frankly it didn't help," Dahncke said about the perception of just what Autopilot can and can't do, and where it falls on the SAE levels.
Pushed on the amount of time before an Audi with piloted driving enabled will warn you to return your hands to the wheel – around fifteen seconds – compared to a Tesla which will allow you to go much longer, Dahncke says that shorter time, though maybe a little more frustrating on the road, is intentional.
"There's a trade-off there, but there's also a trade-off in safety," he explained. "No judgement on the other side, it's just the decision we made."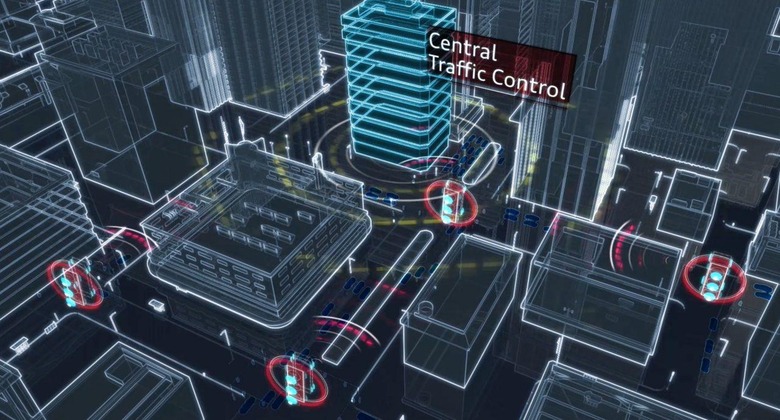 It may be a while before the car can drive for you in urban areas, but Audi has a plan to make that driving less frustrating before that. This fall, the Audi Traffic Light Information system we tested in pre-release form back in 2014 will launch, pulling in real-time data about when lights are turning red ahead of you, and when they'll be green.
Thanks to a connection with centralized data providers running the traffic lights in different US cities, linked via the car's own LTE radio, the vehicle will be able to give a countdown to the next green light phase.
A simple clock shown in the driver's instrumentation – or on the head-up display, if fitted – shows just how long you have to wait.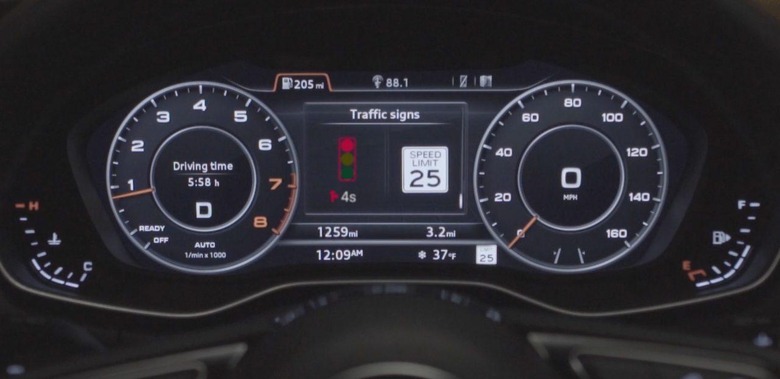 The countdown actually starts before you reach the next traffic light. In fact, the car will show the timing for the upcoming light – not, Audi is keen to point out, to encourage you to hit the gas and make it through a green before it changes, but to take away some of the uncertainty. "A better-informed driver means a less stressed driver," Audi says, though it also decided that the timer should disappear a few seconds before the light is due to change, so that it's not seen as a racing countdown.
Audi's data comes from the various different local government agencies responsible for running the lights. It'll be updated every second, can handle variable timing lights and those which only operate when they sense a car is waiting, and Audi will only show a timer if it has "high confidence" in the timeliness and accuracy of its prediction. In fact, it's already run a year-long trial with around a hundred cars, with what the automaker says has been highly positive reactions from drivers.

The roll-out will be gradual, as will the cars that actually support Traffic Light Information. On the former, Audi isn't giving a list – it says it doesn't want to put undue pressure on the municipalities involved – since it'll depend on the density of connected lights that can provide data. Audi says its hoping to see 5-7 cities go live in 2016, while by the end of next year it hopes 50-percent of its compatible cars to be in areas where they can actually take advantage of the data.
As for which cars that will be, only the current model year 2017 vehicles manufactured after June 1 this year will be supported: that means the latest Q7, A4, and A4 Allroad. It'll be included as part of Audi Connect's "Connect Prime" package – which also includes Google Earth and a number of other features – priced at between $25 and $33 per month depending on how long a contract you commit to.
Obviously Audi will add it to upcoming models after that, but it also has plans for how Traffic Light Information could improve other car systems. For instance, a link with the start/stop system could intelligently shut off the engine not only when the car is stationary for a period, but automatically for the duration of the lights being red. A tie into the navigation system, meanwhile, might shave seconds off a route by taking into account which lights are red and which will be green.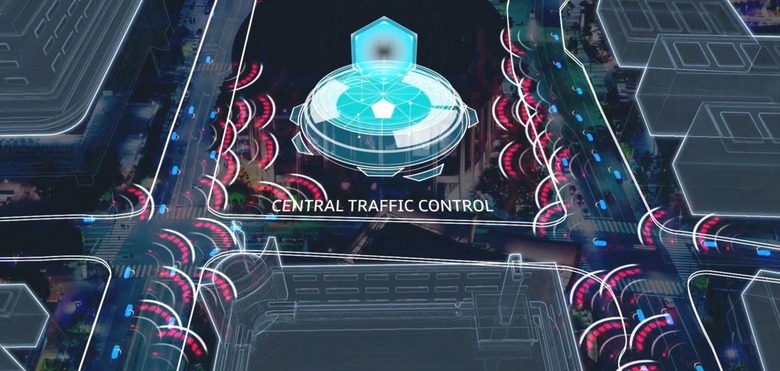 Beyond that, connected cars will begin to communicate back to the city in return, feeding in information about congestion and general traffic conditions so that it can be taken into account with dynamic light timing and more. That's alluring data for a modern city, which might otherwise be struggling with traffic flow management. After all, as HERE – owned by a consortium of which Audi is a part of – has previously demonstrated, preventing jams before they even form, routing emergency services more effectively, and keeping deliveries running on time are all big boons to the modern city.
For you and me, though, it might mean a little less stress on the commute, a little gas saved, and a safe, predictable moment to check your phone. Until autonomous cars arrive to take over the reins, that may well be as good as it gets.