Audi takes lead in LED headlight fuel efficiency drive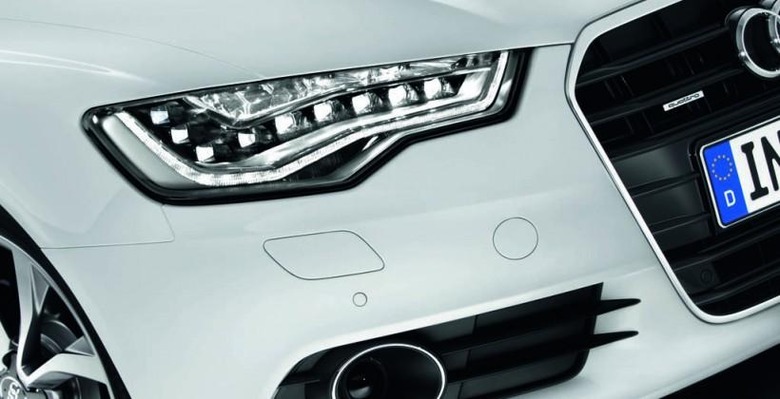 Audi has become the first car manufacturer to have its LED headlights validated as contributing to fuel-economy, with the bulb alternatives shaving off over a gram of CO2 emissions per mile. The LED lights – which Audi uses on five models in its range, from the cheapest A3, through to the R8 coupe – were run through the EU Commission's dynamometer and found to trim CO2 output by 1.61g/mile, as well as using less power than halogen lights.
A halogen lamp in low-beam mode, for instance, demands 135W of power, Audi points out. In contrast, the German company's LED lights need around 80W, and the firm uses LEDs for the low-beam, high-beam, and license plate lamps.
[vms d284984fb11d90254081]
The testing specifically looked at the Audi A6, with the EU putting the car through ten NEDC cycles. "As a result," Audi says, "the EU Commission has officially identified the LED headlights as an innovative technology for reducing CO2 emissions." It's the first time a car manufacturer has been certified in this way.
However, not all of Audi's cars come with the same system, nor indeed with the same amount of LEDs. The A3 has just nineteen to play with, switching between low- and high-beam modes; a separate module handles all-weather and cornering lights. In the A8 luxury sedan, however, there are 76 LEDs in each lamp unit.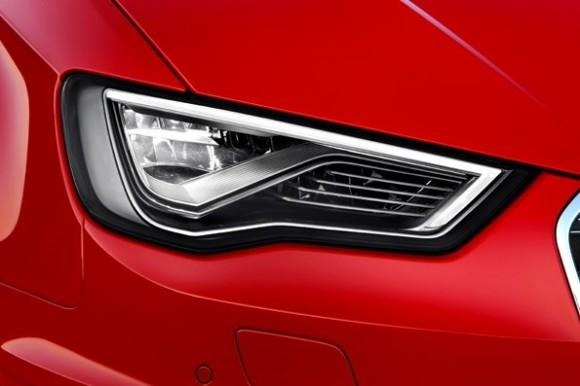 It's not Audi's first flirtation with headlamp tech potential. Earlier this year it revealed its work on so-called Matrix LED lights, which pair LEDs with reflectors and lenses that are computer controlled to react to the surrounding environment. Data from sensors, cameras, and GPS are crunched, and the output of the lights – in addition to even the angle they project at – is adjusted according to daylight conditions, oncoming traffic, upcoming bends, and more.
Matrix LED headlights are expected to arrive on select Audi models before the end of the year, though the company isn't the only one to be thinking hard about how LEDs make sense in cars. The 2014 Corvette Stingray, for instance, uses special down-firing LEDs and light-guides to blend the output into solid lines of light, rather than leave it as the individual points of brightness as on an Audi.