Audi Sport Quattro concept production likely plus R8 e-tron reprieve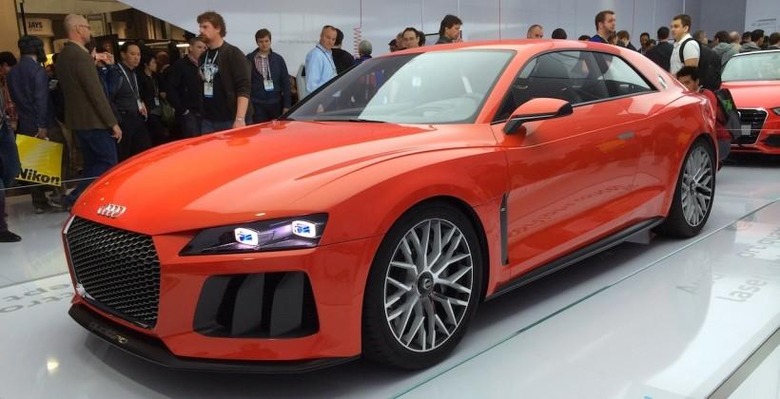 Audi may give its eye-catching Sport Quattro concept the green light to hit production, the company's chief engineer has teased, though the show car's 700HP V8 hybrid engine is unlikely to make it to forecourts. The slope-backed all-wheel-drive concept was first shown off at the Frankfurt auto show last year, as well as at CES 2014 in January, with Audi describing any production potential likely seeing the Sport Quattro positioned as a "boutique" model with a price tag in the region of $160k+; now, though, there's chatter of an altogether more realistic positioning for the car.
In fact, if the Sport Quattro does get the go-ahead, Audi chief engineer Ulrich Hackenberg told Top Gear, it's likely to be positioned somewhere in-between the current TT coupe and the R8 supercar. That would see it framed as a sort of grand tourer for four, rather than the more purist sport focus of the two-seater R8.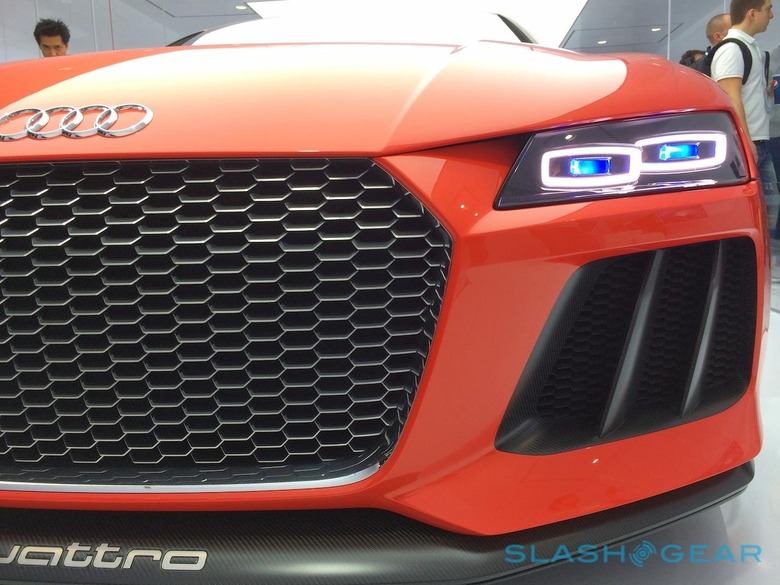 Unfortunately, occupying that particular niche – the TT starts at around $40,000, while the R8 starts at around $115,000 – would require some paring back of what the Sport Quattro had been toting around the show circuit.
First to go would be the powerplant, which pairs a 4.0-liter TFSI V8 good for 552HP and 516 lb-ft of torque with an electric motor adding another 148HP and 295 lb-ft of torque. That's pushed through an eight-speed Tiptronic transmission, with Audi claiming the car's Li-Ion battery is good for around 31 miles of all-electric driving.
That sort of engine tech doesn't come cheap, however, and so Hackenberg suggests Audi would be more likely to pick other, more affordable options from its existing range. "We used a powerful powertrain to position it" the engineer pointed out. "But the potential is to have more volume. It needs a high investment so it makes sense to use other engines."
Audi's current hybrid range in the US is small, though the Sport Quattro could potentially borrow the powerplant from the Q5 hybrid SUV. That combines a four-cylinder turbocharged 2.0-liter gas engine with an electric motor, though with roughly a third of the horsepower the concept car musters.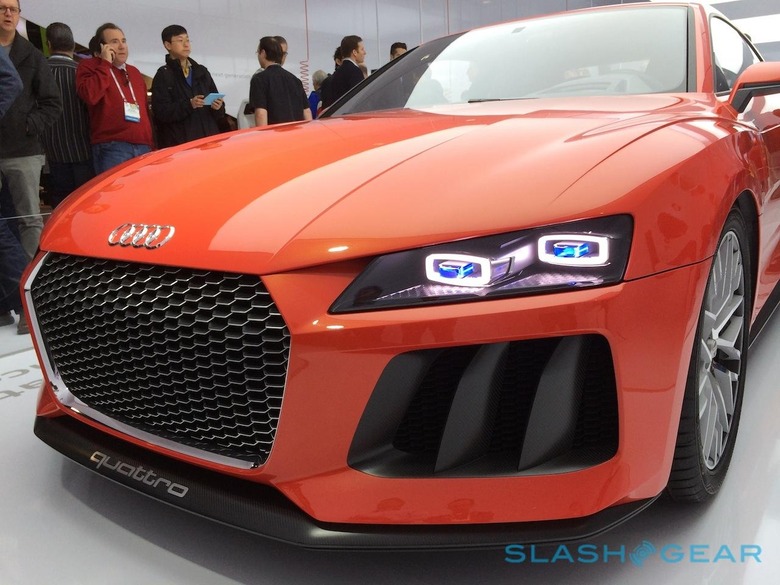 If Audi does decide to go ahead with the project, Top Gear suggests it could be 2016 or 2017 before the production model goes on sale. Before then, however, Audi's TT will be replaced, with a new model due this March at the Geneva Motor Show; that could well borrow some styling cues from the Sport Quattro concept, Hackenberg hints.
"I can imagine the TT has much more potential than we have used up to now," the engineer teased, pointing to the Allroad Shooting Brake concept Audi had prepared for last year's Detroit Auto Show. "That's why we did this Allroad concept. The trend is to smaller crossovers. So for example you could do a crossover TT. It would have a big group of fans."
Meanwhile, despite Audi abandoning the all-electric R8 e-tron in 2012, Hackenberg says that after re-examining the technology he's now made it his "personal target" to bring it to market:
"I had a deeper look into the technology. It was fine, except for two problems, range and cost. But we've worked on it. We have changed the package to use more battery modules, and changed the modules too. It's been a success. I'm discussing with the board to use this car as a technology carrier for us" Ulrich Hackenberg, chief engineer, Audi
VIA Jalopnik