Audi Q8 Concept First Look: Next-Gen MMI Dashboard Hands-On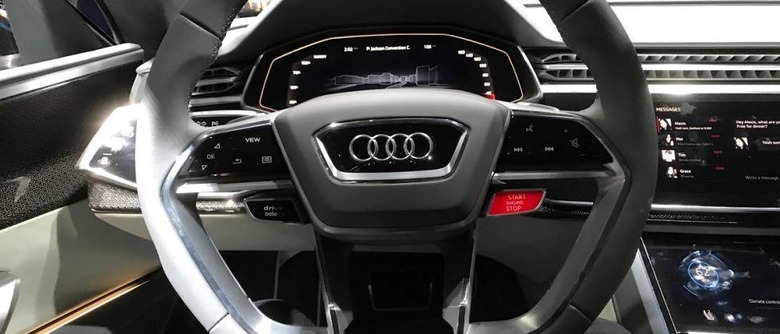 We're live at the North American International Auto Show this week, and we've managed to spend some time having a look at Audi's new Q8 concept. The new Q8 luxury SUV was revealed earlier in the week, and now we're getting to take a look inside. The important thing to note about this concept is that it centers entirely around the interior of the car, with the new infotainment center being the main attraction.
The new infotainment system is split up into two displays that span the center console. With the top display, you'll have access to all sorts of different controls, with navigation, car settings, messages, hands-free calling, and weather all present. As we saw in the demonstration given by Audi, the menu for this infotainment system has been redesigned to make many options easier to access.
This, in turn, means a "flatter" menu system than you may be used to seeing. Many options can be accessed either from the main screen directly or by swiping from the main screen, meaning it takes fewer gestures and taps to get to what you're looking for. To make things even easier, Audi has equipped the main screen with a shortcut menu, allowing you to put the most important panels in a sidebar that runs along the left side of the screen for easier access.
Just as well, the individual panels in the menu system can be rearranged on the main screen, allowing you to put options that you use more frequently closer to the steering wheel. In terms of menu options, you'll find the same ones you see in most infotainment systems. It's important to remember that the main focus of this redesign centers around ease of use, customization, and streamlining, not necessarily bringing new options beyond what existing infotainment centers are capable of.
The second screen, which is positioned beneath the first, is reserved exclusively for climate control. It's here that you can control fan speeds and temperature for both the driver and passenger seats. Fan speed is changed by rotating a virtual dial, while you're able to swipe through different temperatures.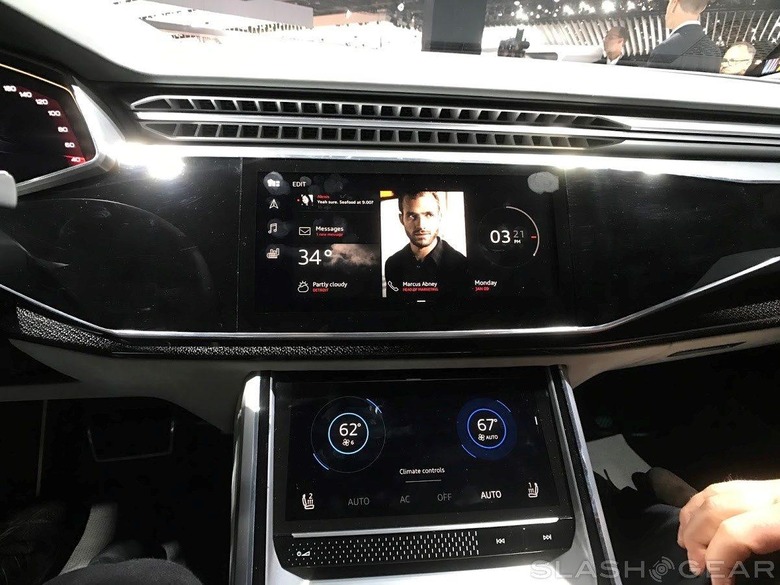 Both displays use touch controls instead of gestures, but both also offer haptic feedback. While both of those displays were fully active for this demonstration, the screen in the dashboard that will display the GPS, speedometer, and odometer wasn't. Instead, we were only treated to a looping video, but Audi says that what we see in the center console and behind the steering wheel will be mostly similar to what ships in new Audi Q8s.
In fact, Audi says that the concept is about 90% similar to what we'll get in retail models. So what's changing? The materials used in the interior for one – though the cabin was outfitted with leather and carbon accents, Audi says that the interior materials were used specifically for this concept.
In other words, while the construction and overall look of the interior will be similar to what we're seeing here, the materials Audi uses to achieve the aesthetic will be different. Still, Audi tells us that the infotainment system in the next production Q8s will feature a dual-screen infotainment system like the one we saw demonstrated.
Once the demonstration was over, simply touching a panel on the door was enough to open it automatically, so at least in this concept, there aren't any door handles to speak of. It's an intriguing concept to be sure, and if Audi's claims to 90% similarity with production models is accurate, then it gives us a good idea of what to expect from incoming Q8s. We'll have more from NAIAS 2017 coming up, so stay tuned!