Audi prices up its 2016 A3 e-tron hybrid for US drivers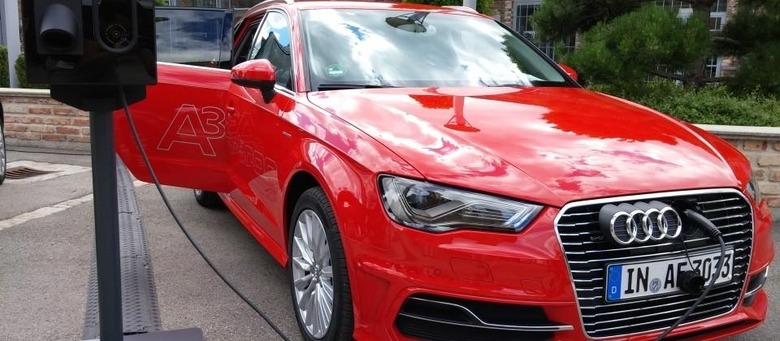 Audi has priced up the 2016 A3 Sportback e-tron for the US, its first – but, if all goes to plan, not last – electrified car for American drivers. The hybrid hatchback pairs a 1.4-liter TFSI engine with a plug-in electric drive system, and will show up in dealerships from October. Audi is, unsurprisingly, pitching it above a Prius or a Volt, however, with the A3 e-tron starting out at $37,900 before federal tax credits.
That gets you the Premium package car (plus $925 destination), with Xenon headlamps, LED rear lamps, keyless start, automatic dual-zone climate control, and a leather-wrapped wheel. There's also a reversing camera along with front and rear parking sensors, and Audi's "pre sense basic" safety kit.
A Premium Plus variant will be priced from $42,000, and finally an A3 Sportback e-tron Prestige will be from $46,800.
Options will include LED headlights, a 7-inch MMI infotainment system that rises out of the dashboard, 3D optic inlays, and a 705 watt 14-speaker Bang & Olufsen audio system. 4G LTE and other features from Audi's MMI system can also be added.
Audi expects the electrified car to qualify for a federal tax credit of $4,168, and there may well be other state-dependent credits, too.
For your money, you get a six-speed S tronic transmission, 204 HP, and 258 lb-ft of torque. The 8.8 kWh battery under the rear seats charges in around 2 hrs 15 minutes when the port behind the four-ring Audi logo is hooked up to a 240V outlet.
If you only have a regular 120V outlet, it'll take more like eight hours, though. A smartphone app will show charging status remotely, as well as allow the climate control to be adjusted.
Meanwhile, as we found when we tried the European version of the A3 Sportback e-tron, there are four different drive modes to choose between, ranging from preserving battery charge for the city through to combining both systems for maximum performance.