2015 Audi A3 e-tron First Drive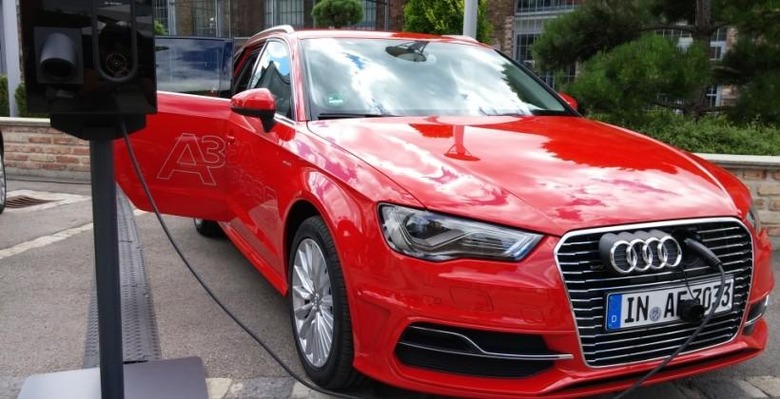 Say hello to the newest member of Audi's A3 lineup for 2015: the A3 Sportback e-tron. Sure, at first glance it may look just like a regular A3 Sportback, but don't let that fool you: this one's special. As with many things in life, two is better than one; so, aside from a regular 1.4 TSFI engine there's also a 75 kW electric motor. In a nutshell, this is Audi's first production implementation of a plug-in hybrid, and the future of driving that, according to the company, is without compromise.
Technology
So how's an electric-only motor with a theoretical drive distance of just 31 miles not considered a compromise? 31 miles would be the kiss of death for an all-electric EV, but Audi claims the e-tron offers the best of both worlds.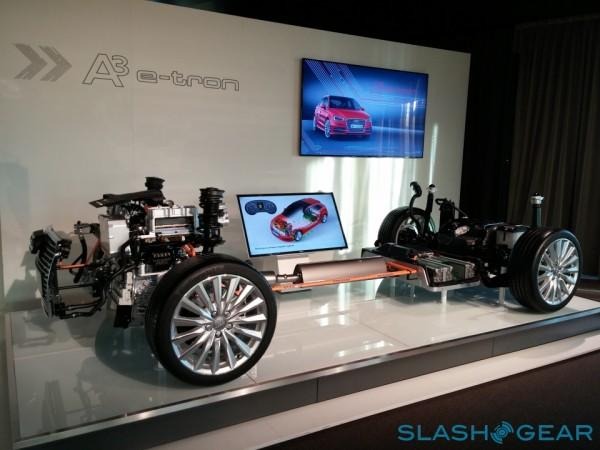 For starters it has a top EV-only speed of 80mph, and enough tech to regenerate the 8.8 kWh capacity battery either on the go – using the 1.4 liter gas engine as a generator – or in less than 2.5-hours on an high-power outlet. I tested the A3 in Europe, where it will launch first, and US plans and final specifications aren't known yet; still, based on the car I drove, you can expect a regular 110v US outlet to take around eight hours to recharge the Audi.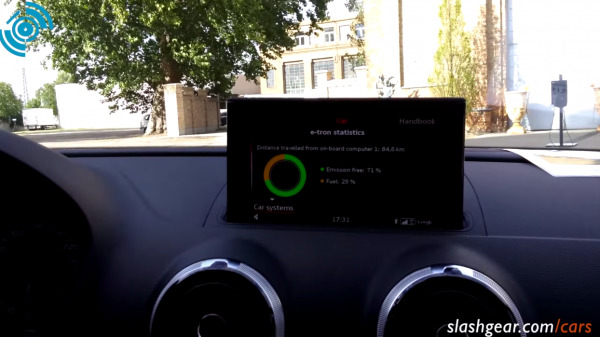 The A3 Sportback e-tron has four drive modes, depending on how you want to use the electric drive. Standard is Hybrid Auto, which automatically switches between EV-only and EV+gas drive. An EV mode locks out the gas engine and limits you to 85 mph at most.
Hybrid Hold effectively turns the car into a gas-only A3, freezing out the battery from the drivetrain. Audi expects drivers to use it when they're on a mixed journey with both highway and city travel, saving the EV drive for when they're in town.
Finally, there's Hybrid Charge, which uses some of the gas engine's output to recharge the batteries. It's not as efficient as plugging into the wall, however, and exactly how long it will take to get to 100-percent depends considerably on how you're driving at the time.
Play it carefully, and the e-tron's 31 all-electric miles gives the A3 the potential to return 156.8 US mpg and CO2 emissions of 35g/km or 56.3 g/mi (converting from the official ECE numbers). Don't go comparing that to a US Volt or Leaf, however, since the European testing is different to how US EPA tests run.
Audi had to do some clever packaging work to fit in not only a regular gas engine but all the components of the hybrid drive. The 1.4 engine is almost exactly the same as is offered in the regular A3 Sportback, but shifted 2.4-inches to the right so as to make room for the extra parts; the only significant change is a coating applied to the pistons and bearings so as to make it easier for them to start up when the engine kicks in.
In total, there's 204 HP and 258 lb-ft of torque, for a 0-62 mph time of 7.6 seconds. Top speed is 138 mph, and the e-tron gets a new S-tronic transmission, which works as both a six-speed when the gas is running and gearless when things are running in EV mode.
Real World Test Drive
The A3 Sportback e-tron starts up to the sound of... nothing. Dead silent. That's unless the battery is depleted, mind, or it's too cold or hot outside. Under those conditions, the petrol engine is required to kick in to help cool down or warm up.
From that point on, you have a choice. On the one hand, the A3 can be driven like, well, an A3. Audi hasn't exactly hidden the dual-powertrain aspect of the car, but neither does the e-tron scream "eco buggy!" like, say, a BMW i3 might.
If you've driven the regular car, the extra weight of the electric drive and the batteries it requires might be noticeable. The e-tron carries more than 700 pounds over the standard Sportback – predominantly the batteries under the rear seats – for a total curb weight of 3,395 pounds, and so it's not quite as spritely as the regular car. It's certainly nowhere near bad, just that for all its cleverness Audi can't compete with the laws of physics.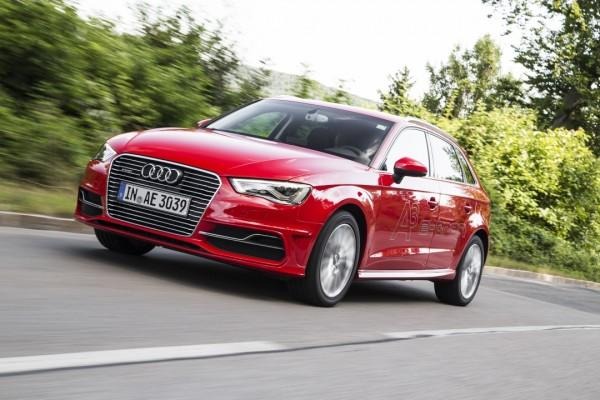 Still, I'm impressed nonetheless with how "normal" the e-tron feels on the road. In Hybrid Auto mode it's truly set-and-forget; there's just the buzz of road noise as the silent EV drive propels you, and then the momentary grumble as the 1.4L kicks in periodically as road conditions demand it.
Alternatively, you can take a more involved role in how the e-tron drives. Audi had plotted a number of mixed-driving routes, which at different times suited either EV, gas, or hybrid approaches. Toggling the switch on the dashboard flicks between the various modes.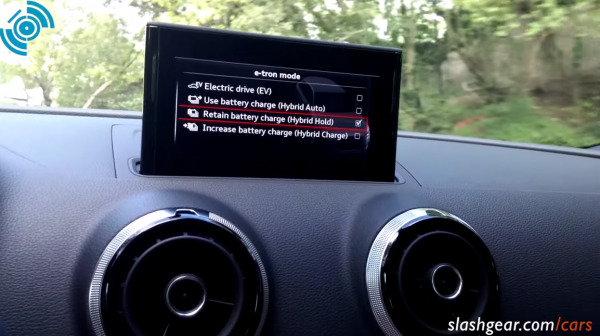 As with other EVs I've driven, there's a surge of torque from the outset as the electric motors kick in instantly. Not quite the kick-in-the-chest some electric cars give you, but certainly akin to a reasonably-sized regular engine. I was able to cruise around town in virtual silence, then bring in the 1.4L on the highway. Steering feel is great, and the brakes are responsive, even when handling the extra weight.
Still, the brakes are a little unusual, thanks to the regenerative power system. Normally, in any other EV, the car claws back a little charge as you slow, by switching the electric motor into a generator and converting some of the forward momentum back into electricity.
With the e-tron in regular Drive (D) mode, though, ease off the gas pedal and something different happens. Both engines are decoupled from the drivetrain and the A3 begins smoothly coasting: there's no active braking unless you actually press the brake pedal yourself.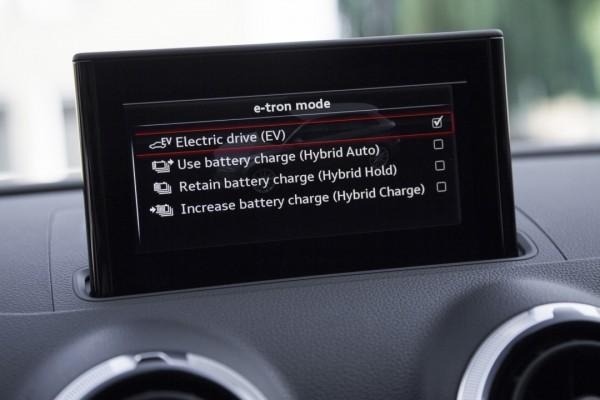 This "gliding", Audi says, is a way to achieve the maximum kinetic range and minimize engine drag losses. It's certainly smooth, though it takes a little getting used to since it's different both to traditional cars and other EVs.
Switch over to Sport (S) mode, meanwhile, and the e-tron gets more aggressive. The gas engine kicks in sooner than usual, so you're not left waiting for power, and then when you lift your foot off the accelerator you get regenerative braking as you might expect, the A3 shedding speed more rapidly.
According to Audi, coasting is more economical, and the company has the smartphone app to prove it. The companion iOS and Android app – and a browser-based portal – shows metrics like average speed, charge status, and distance traveled, but also handles charging patterns.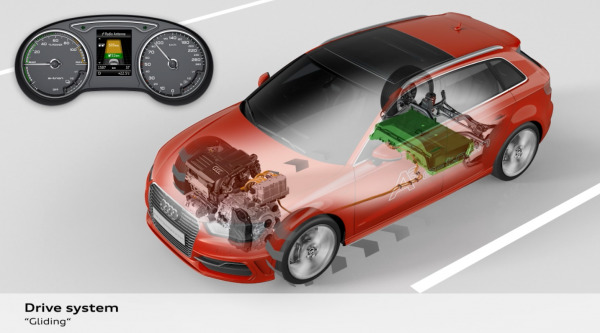 So, you can remotely check how much juice is left in the e-tron's batteries, through Audi's connect e-tron service, and see what sort of range that works out to on average. With the right energy provider, the electric A3 can adjust its charging schedule depending on when the price of power is cheapest; or, you can tell the car when you expect to next require it, and it will automatically work out when it needs to start charging.
Even things like pre-heating and pre-cooling can be managed from the app, with the A3 Sportback e-tron clever enough to take advantage of having a mains power supply to bring the cabin to the required temperature and thus save its own battery reserve.
Design and Interior
As hybrids go, the A3 Sportback e-tron could easily be considered subtle. Look hard enough and you'll spot the discrete "e-tron" badges on the front and rear, and how the grill sports 14 horizontal chrome blades, instead of 7 plain-finish ones on the regular A3 Sportback.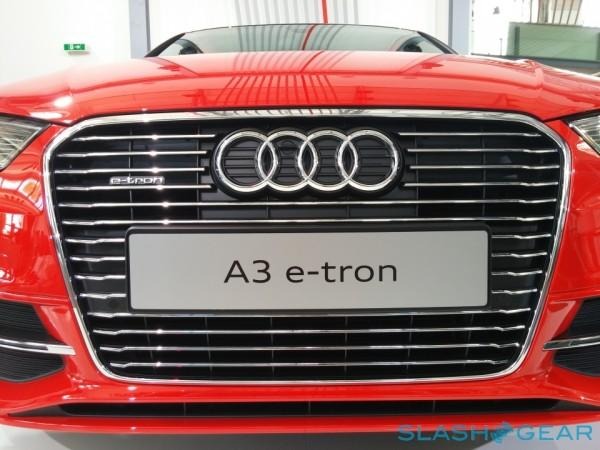 At the back, the tailpipe is nowhere to be seen, as its been hidden under the rear trim. It's personal taste, of course, but I really like the cleaner overall look. Audi is worked in some neat detailing, too, like the slide-aside four ring badge on the front which reveals the power socket.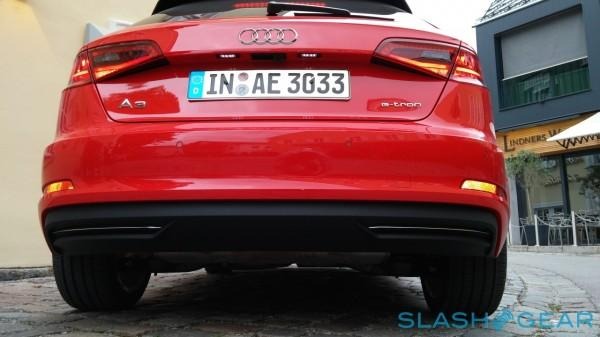 Inside, meanwhile, and it's instantly recognizable from the A3 sedan we drove earlier in the year. Audi's dashboard is simple and clean, a central swathe line cutting across with function buttons embedded in the center, topped with circular vents and a pop-up 7-inch LCD, while underneath are media and heating controls.
Automatic air-conditioning is standard, as is a meaty three-spoke steering wheel, LED headlamps, and seven airbags. As you'd expect, though, there's a lengthy options list to pick from: you can fit the A3 with leather-clad power-adjustable seats, a panoramic glass roof, lane-change assist, and adaptive cruise control (which also takes advantage of the regenerative braking when slowing the car in traffic).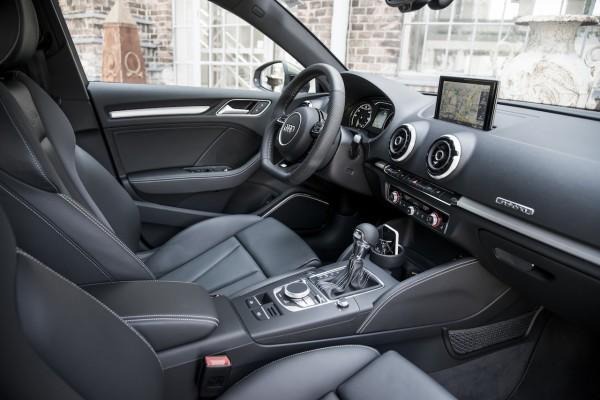 Audi's excellent infotainment system is onboard, and can be optionally upgraded with Bang & Olufsen audio and MMI navigation plus. The central control wheel down in the center console both rotates and presses in, to select, but also has a touchpad embedded in the top so that you can sketch in letters and numbers with your fingertip. It's still one of my favorite infotainment systems, all powered by NVIDIA's Tegra chips, and optionally can be equipped with a wireless hotspot.
Wrap-Up
There are several different schools of thought when it comes to next-gen vehicles. On the one hand, there are those who want a car that's unmistakably green: all-electric, perhaps, with a design that can't be mistaken for anything other than an EV, and that's both demanding and rewarding in the new way of driving it invariably requires and allows.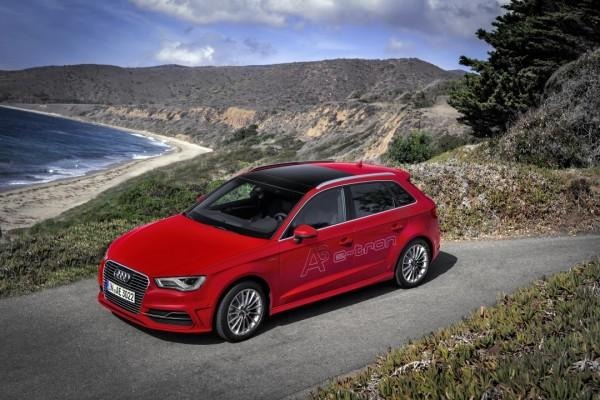 In contrast, there's a more evolutionary approach, and it's one the Audi A3 Sportback e-tron follows. At first glance you could mistake the car for its regular gas-only sibling; people you pass in the street won't know you're driving a high-tech hybrid, they'll only see a solid, cleanly designed German hatchback. Nobody will know you could hit 600 miles of range with tank full and batteries charged.
Behind the wheel, too, the e-tron adapts rather than forcing revolution upon you. Leave it in Hybrid Auto mode, and you could feasibly drive it just as you would a normal A3 and simply enjoy a raised level of economy. Invest a little time flipping between the drive modes to suit your upcoming route, and you could save even more. All the time, there's the reassurance that you can pull into a gas station and top up in the traditional way should you lack either time for or access to an electric charging station.
Audi still has decisions to make before it brings the A3 Sportback e-tron to the US. The first deliveries in Europe begin this coming winter, priced at €37,900 ($50,800), but Audi is thinking of a summer or fall launch in the US, to give it time to gage the needs and demands of the market, and figure out just what balance of compromises and advantages American drivers will require.
If it can get the US pricing right, the combination of sturdy build, handsome design, and lengthy range is likely to leave the A3 Sportback e-tron popular. Even if Audi's hatchback is not for you, there's the thought of a full e-tron range in the pipeline as the company takes the technology and applies it more broadly. Having seen how well Audi can coax gas and electric to work together, that's something I'm eager to see.