The folks at three of the biggest names in auto and/or audio have come together this month to bring on a beast of a system for the Audi Q7 for 2013. Bang & Olufsen have partnered with Audi as well as Fraunhofer IIS to bring on a "3D sound experience" for the next generation of Audi vehicles. Fraunhofer IIS, if you did not know, was the "main" inventor (as they say) of the MP3 and is an innovator of next-level audio experiences top to bottom – as any average Joe would tell you.
The Audi Q7 Concept Car brings this experience on to the universe riding high on the success of the reintroduction of the 3D movie experience here in the 21st century. While 3D movies and the technology behind that visual experience is limited to the movie theater and the home theater with special visual enhancing goggles and the like, the 3D audio experience is ready, here and now, for the high-powered automotive world.
"Bang & Olufsen Audio Systems for cars are widely renowned for their unique ability to turn a car interior into a real high-end listening room, and with the addition of the 3D sound algorithm and associated speaker units and amplifiers in this Audi Q7 Concept Car, we add a new important emotional dimension into the listening experience. Extending beyond the small confined space of the vehicle cabin, the available sound experience now ranges all the way from a very big and open sense of space to the purist setting such as a control room of a recording studio." – Bjarne Sørensen, Senior Manager Car Concept Creation and Communication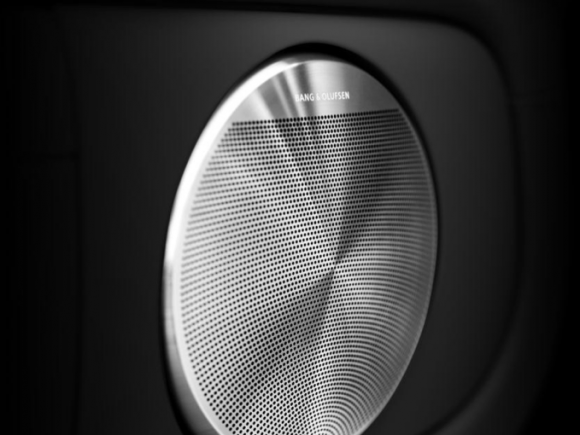 Using the Audi Multi Media Interface you're able to work with the vehicle's 3D sound system, able to, as Harald Popp, head of the Multimedia Realtime Systems department of Fraunhofer IIS notes, "dissolves the geometry of the car." Inside this vehicle you'll find an amount of speakers placed to perfection that you'll have never before experienced:
• Two loudspeakers in the dashboard center (tweeter and broadband)
• Two tweeters in the dashboard (left/right) with acoustic lens
technology
• One mid-high loudspeaker in each A pillar
• One tweeter in each A pillar
• Two loudspeakers in each front door with a woofer and a midrange
• Three loudspeakers in each rear door with a woofer, midrange and a
tweeter
• Two surround loudspeakers in each D pillar, consisting of a tweeter
and broadband
• One closed subwoofer box in the spare wheel compartment
This experience is such that a user will want to head out to their vehicle to listen to a new album simply to feel completely engulfed in sound. They won't even feel the need to drive the car – no need for your own home studio anymore! Welcome to the next level – that's what this team is saying to you, the future Audi owner.
We've yet to see this system in a real market-ready auto, but we're expecting this perfectly tuned and placed system to hit real vehicles some time in 2013 – that's just an assumption, mind you, but judging by this presentation, they're ready for action. Have a peek at our Car hub for more information on the power present in the automotive industry today, especially in the technological breakthroughs of tomorrow!