AUDEO PFE 022 + Mic Earbuds [Review] on a Plane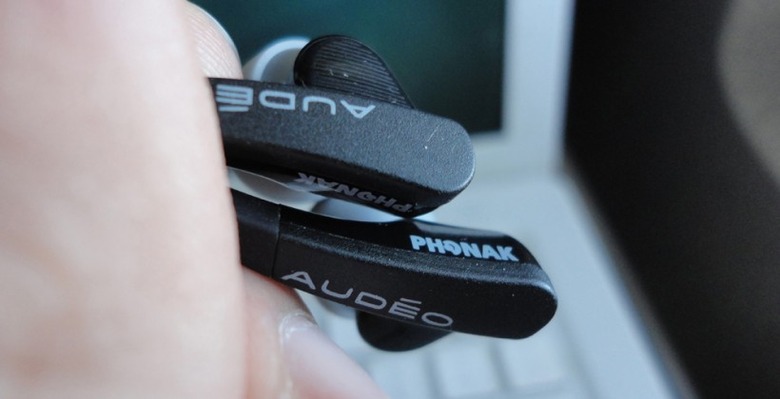 Take a look with your humble narrator at this lovely little pair of earbuds in the super bright white, orange, red, and black box. They say this set, the AUDEO PFE 022 + Mic Earbuds, have perfect bass, a perfect fit, and "perfect protection for maximum sound quality even at the lowest volumes." Inside the box there's a load of little instruction books, the earbuds, and three sets of rubber covers (for the insides of your ears.) Take a listen with us to the smooth sounds of these earbuds, a pair of earbuds that finally, finally fit in my ears and sound great without giving my lobes and drums a ringing out. Preview: for what they are, they rock. See the Unboxing and Hands-On post also!
Sound Quality
Jam them into your ears, and you will hear everything you'd like. For bass, take the song "Black Smoke" by The Prodigy off their EP by the name of Lost Beats. As I write this review I'm in one of the most terrible places for sound quality on the whole, a window seat on a 757 airplane flight (from Orlando to Minneapolis, if you'd like to know,) and I'm still jamming out pretty hard. I can hear the THOOM of the bass, the knocking of the steel drums, the flip-flopping of the DJ's ripped-up records, and yes, even the tiny beeps in the background.
Next up is the song "Honey" aka "Bonus Track – special ingredient" by Erykah Badu from the album New Amerykah Part One. In this track I'm able to hear a little bit more sharpness than I'd like – this wasn't as noticeable on the Prodigy track since, well, that music is wacky sharp in the ears no matter what you do because that's the idea with that type of music. Here where I'm expecting a softer end of each smack, there's, again, a little more sharpness than I know I hear under ideal conditions. The bass is still superior to most buds I've tested.
Finally, an older track by the name of "Dope Hat" by everyone's favorite 90's weirdo Marylin Manson from his classic Portrait of an American Family. The buds perform very well with this stereo track, each bud clearly delivering the doinks and cracks and jams and even the back-and-forths (more than one of these made to make you dizzy when you're listening to headphones)
*A back-and-forth is when the producer has taken an audio element and has moved it back and forth along the two speaker receptors where usually a single sound goes in one or both since moving sounds back and forth like this produces an uncomfortable barf-inducing effect. If you've got at least a high-middle quality set of earbuds like these, this effect sounds nice, reminding you that you'd be throwing up if you didn't have as nice a set as these.
As each of these tracks is played, the fact that these are earbuds and not ear-covering headphones is quite apparent – why? Because, again, these buds are right now being tested in the heck-hole – about 10 feet away from a jet engine. That said, these are the NICEST pair of earbuds I've ever had the pleasure of being jammed in my ears. I can hear the jet, but I can ignore it and enjoy the music (or the movie, or whatever else I happen to be grabbing audio from here on this airplane.)
Mic
Works great, sounds clear. placed at exactly the right place along the cord that it's at the mouth with both buds in the ears. Single button turns on/off reception, minimalistic approach allows you to know it's there while a layman might not ever notice it. No complaints here.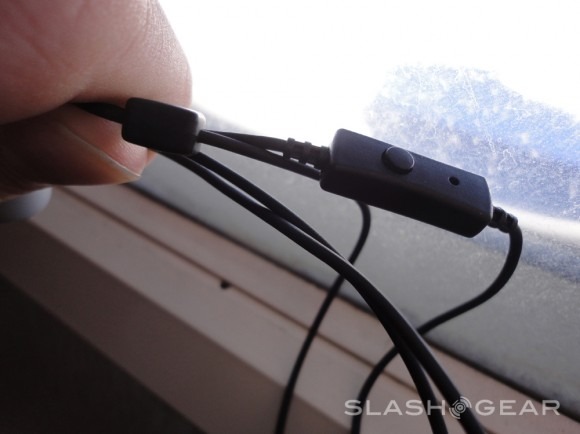 Comfort and Feel
Feels good, man. This set of buds comes with three sets of rubbery plugs for what I at first thought were people who treated them harshly and needed replacements – nay! They are three different size sets of buds for different sized lobes. Well played, Audeo. Each set doesn't have a gigantic amount of size difference from the next, but if you've got smaller holes in your ears, you shouldn't have to worry, as all sizes will jam into smaller ears. If you've got problems often with earbuds because you're just a gigantic person to begin with, probably just go ahead and steer clear of earbuds altogether – that's my advice. These three sizes are for comfort more than they are to accommodate for large ranges in lobes.
I've got fickle ears, lobes and drums. Earbuds do not agree with me on a regular basis, and for the first few hundred years after earbuds were first thought up and sold commercially, I swore off of them because they gave me a major headache almost no matter what. Audeo proves here that the new age in comfort for haters like me has arrived. I brought these buds along on a weeklong trip here instead of a larger pair of headphones because I found them to be both comfortable and small enough to fit in my pocket – imagine that!
[vms cb1627a2044908a42fdc]
Wrap-Up
Good buds, man. The package is gorgeous and for the quality they promise, these are the buds to suggest to buds. Comfortable for headache havers, sound good next to a jet engine, and look and act well physically. Bottom line is that these are the buds I bring with me places. They're no sound-canceling several-hundred-dollar headphones, but they don't promise to be – great earbuds is what's going on here.