AT&T teases stylus-enabled LG G Vista 2 coming soon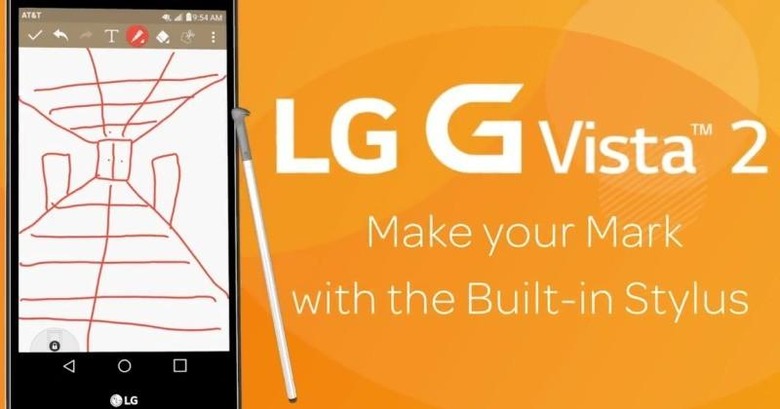 Although Samsung and LG are usually painted as compatriot rivals, the latter hasn't exactly tried to always match the former when it came to product lines. Although LG did have its own take on the curved smartphone and is even rumored to have a wireless payment service in the works, it hasn't been to keen to take on the Samsung Galaxy Note series. The LG G Vista, which it launched on AT&T and Verizon last year, is one such attempt and is now getting a very slight upgrade.
Let's get this out the door at once. The LG G Vista would not hold a candle against any Galaxy Note when it comes to the stylus. Unlike Samsung's pressure sensitive pens courtesy of Wacom, LG's styluses are simply the same sticks with rubber stubs that you can buy for cheap, except tit has its own silo inside the device. Nonetheless, it's still a useful tool especially when it comes to writing text in other languages, like Chinese, Japanese, and Korean.
Last year's LG G Vista may have been a disappointment and this second generation might not exactly be promising but at least LG has taken pains to update the smartphone to more recent specs. The 5.7-inch screen, for example, now boasts Full HD resolution instead of the previous 720p. It is now running on an octa-core CPU, probably a Snapdragon 610 or 615, instead of a quad-core one. And there's now 2 GB of RAM inside as well. Storage is doubled to 16 GB and is still happily expandable.
Design-wise, the G Vista 2 has also been updated to LG G4 aesthetics, sporting a more curved body and one of the faceted rear cover options also available for the LG flagship. The smartphone has a 13 megapixel rear camera equipped with LG's now famous laser autofocus. There's also manual controls for the camera, something that LG loves to boast about on the G4.
Aside from the short teaser video, AT&T hasn't revealed much details about the LG G Vista 2, when it's coming and how much it will cost. We can only presume "really soon now".