AT&T Nokia Surge lands July 19th: QWERTY, 3G and S60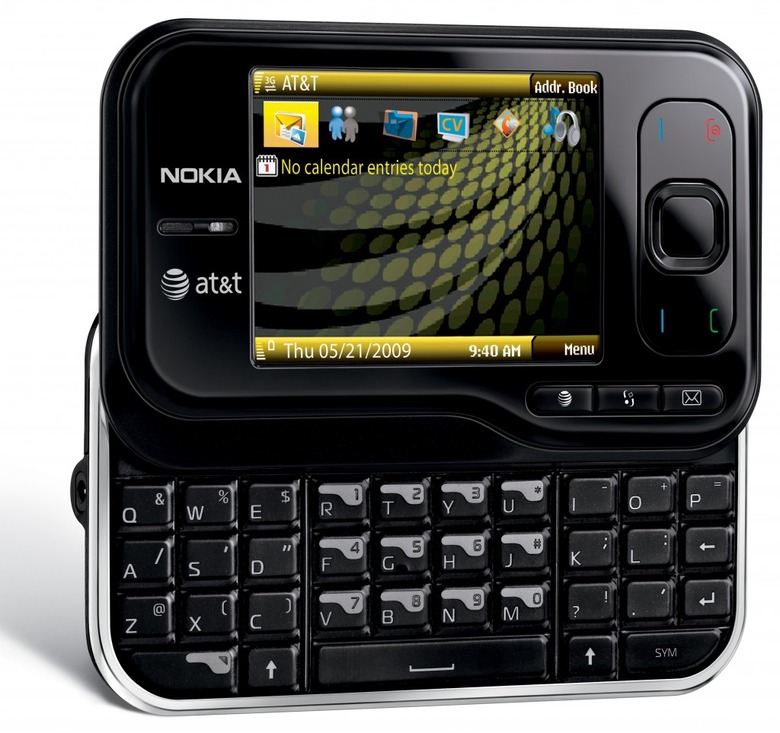 Nokia and AT&T have officially announced the Nokia Surge, an entry-level S60 handset with slide-out QWERTY keyboard and 3G connectivity.   First spotted in pictures and video earlier this month, the Surge has a 2.4-inch 240 x 320 display and a somewhat unique form-factor among Nokia devices.
As well as a full messaging suite, including IM, SMS, MMS and email support, the Surge has a 2-megapixel camera, A-GPS with AT&T Navigator support, and AT&T Video Share for video calls.  There's also JuiceCaster, for straightforward image and video uploads to Facebook, Twitter, YouTube and Flickr.
The browser has Flash support for streaming video, and there are also various mobile music download options such as Napster, eMusic and XM Radio.  The Nokia Surge will be available on AT&T from July 19th, priced at $79.99 after a $50 mail-in rebate.  It will require a two-year agreement on both a voice plan (minimum $39.99) and data plan (minimum $30), which adds up to a not-inconsiderable $1,759.75 over the course of the contract.
Press Release:
AT&T and Nokia ride a social wave into summer with the Nokia Surge(TM)

New Symbian S60 handset offers social style with smartphone capabilities at a low price

Dallas, TX, USA – Now you can carry your clique with you in your pocket. AT&T* and Nokia today announced the availability of the Nokia Surge, a socially supercharged smartphone powered by the nation's fastest 3G network. Available online and in AT&T stores on July 19, the Nokia Surge is an ideal device for active consumers who like to stay connected whether using IM, text or email, sending multimedia messages, AT&T Video Share, or updating and connecting via their favorite social networks.

With a full slide-out QWERTY keyboard in a slim, stylish design and Symbian S60 multi-tasking capabilities, Nokia Surge is the ideal smartphone for today's customer who is always in touch with their social circle. A recent survey commissioned by Nokia revealed that people are so hooked on staying in touch that they would rather give up coffee and sweets than live without their mobile for two weeks.**

In addition to an impressive suite of messaging capabilities, the Nokia Surge offers a powerful browsing experience, including Flash support to view most sites in full HTML or watch YouTube videos. Nokia Surge allows users to post messages, images, videos, and comments to web sites like Facebook on-the-go with the pre-installed JuiceCaster application.

"Launching at 79.99 USD with a complete email solution, downloadable applications and full HTML browser with Flash support, Nokia Surge hits the sweet spot between a quick messaging phone and a smartphone because of its low-price and strong feature set," said Michael Woodward, vice president, Mobile Phone Portfolio, AT&T Mobility and Consumer Markets.

"Designed in the U.S., this socially charged smartphone comes in a sleek slide form factor that supports social networking and messaging – and all on an open platform," said David Petts, vice president and general manager, AT&T Account, Nokia. "Together with AT&T, we're excited to address the increasing demand for smartphones with a device that's as attractive to the customer as it is to his or her wallet."

The Nokia Surge offers multimedia and entertainment features, including:

- 2.0 megapixel camera – Customers can capture quality photos with color camera and 4X digital zoom

- AT&T Navigator – AT&T Navigator provides audible turn-by-turn directions, monitors traffic and alerts users when there is a slowdown or incident

- AT&T Mobile Music – Customers can listen and download their favorite music from Napster Mobile, eMusic Mobile, XM Radio and more over the air

- AT&T Video Share – The first-ever service in the U.S. that allows users to share live video over wireless devices while participating in a voice call

- JuiceCaster – Customers can share videos and pictures from their wireless device to the Web's most popular sites including Facebook, Twitter, YouTube and Flickr

The Nokia Surge will be available through select AT&T retail locations or at www.wireless.att.com for 79.99 USD with a two-year service agreement and after a mail-in rebate. (Pay 129.99 USD and after mail-in rebate receive 50.00 USD AT&T Promotion Card. Two-year agreement for wireless voice plan of 39.99 USD a month or higher and data plan of 30.00 USD a month or more required for rebate.) For more information, please go to www.att.com/nokiasurge. For the complete array of AT&T offerings, visit www.att.com.

For more information and detailed disclaimer information, please review this announcement in the AT&T newsroom at http://www.att.com/newsroom.

*AT&T products and services are provided or offered by subsidiaries and affiliates of AT&T Inc. under the AT&T brand and not by AT&T Inc.

** The online survey examining the way people use mobile device was commissioned by Nokia and conducted by Braun Research during April 2009. The online survey provides a representative example of 500 Americans, aged 18 years or older. The margin of error for the findings at the 95 percent confidence level is ± 4.38 percentage points.

Find more information online:

Web Site Links: Related Media Kits:

AT&T Web Site

AT&T Wireless Web Site AT&T Mobile Phones

Related Releases: Related Fact Sheets:

AT&T Leads the U.S. in Smartphones and Integrated Devices

AT&T Network Coverage Map

About AT&T

AT&T Inc. (NYSE:T) is a premier communications holding company. Its subsidiaries and affiliates, AT&T operating companies, are the providers of AT&T services in the United States and around the world. Among their offerings are the world's most advanced IP-based business communications services, the nation's fastest 3G network and the best wireless coverage worldwide, and the nation's leading high speed Internet access and voice services. In domestic markets, AT&T is known for the directory publishing and advertising sales leadership of its Yellow Pages and YELLOWPAGES.COM organizations, and the AT&T brand is licensed to innovators in such fields as communications equipment. As part of their three-screen integration strategy, AT&T operating companies are expanding their TV entertainment offerings. In 2008, AT&T again ranked No. 1 in the telecommunications industry on FORTUNE® magazine's lists of the World's Most Admired Companies and America's Most Admired Companies. Additional information about AT&T Inc. and the products and services provided by AT&T subsidiaries and affiliates is available at http://www.att.com.

About Nokia

Nokia is a pioneer in mobile telecommunications and the world's leading maker of mobile devices. Today, we are connecting people in new and different ways – fusing advanced mobile technology with personalized services to enable people to stay close to what matters to them. We also provide comprehensive digital map information through NAVTEQ; and equipment, solutions and services for communications networks through Nokia Siemens Networks.