AT&T BlackBerry Curve 8900 on sale early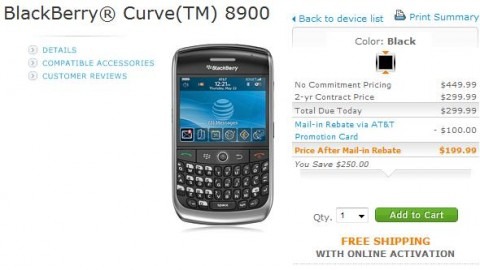 We weren't expecting it until tomorrow, but the BlackBerry Curve 8900 has been listed on AT&T's website as available to buy.  Priced at $199.99 following a $100 mail-in rebate, the phone has a full QWERTY keyboard, EDGE data connection and WiFi.
The cheapest monthly plan AT&T offer with the Curve 8900 is $39.99, offering 450 inclusive minutes, 5000 nights/weekends minutes and unlimited mobile to mobile calls.  On top of that, there's the carrier's data plans, starting at $30 per month for the BlackBerry Personal package; sign up for that, and you also get inclusive WiFi access at AT&T's hotspots across the US.
It's not cheap, then, but the 8900 does come recommended.  We spent some hands-on time with the T-Mobile USA version back in January and, despite the absence of 3G, came away impressed.  The keyboard is perhaps the phone's best feature, but the 3.2-megapixel camera, high-res 480 x 360 display and slim build all add up to a decent smartphone.
[Thanks Tony!]