AT&T 3G Acer Aspire One 10.1-inch hitting Costco May 11th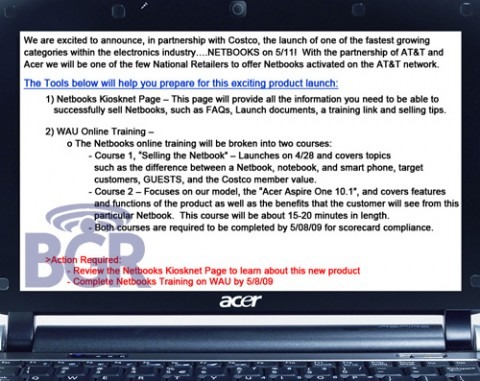 According to the latest leak from AT&T, the carrier is planning to offer subsidized 3G-capable netbooks in partnership with Costco.  The netbook – which will be the 10.1-inch Acer Aspire One - is set to go on sale on May 11th, and will slot in above the existing 8.9-inch Acer Aspire One 3G netbook which went on sale back in December 2008.
AT&T dropped the price of that smaller model last month, from $99.99 to $79.99 with a new, two-year agreement.  It's exclusively available from Radio Shack, and uses an internal 3G modem rather than a USB version.
According to the leaked document, Costco employees will be undergoing training before May 8th, ready for the launch on the 11th.  That includes telling the difference between a netbook, notebook and smartphone, all useful stuff, and identifying target customers (i.e. those with money).